Forest Service Offers Free Entrance on National Public Lands Day
Ed. note: This is cross-posted from the U.S. Department of Agriculture.
The crisp air and vivid colors of fall make forests especially welcoming this time of year. The Forest Service wants everyone to get out and enjoy the natural beautiful of America's lands, so in observance of National Public Lands Day, on Saturday, Sept. 29, we will again waive the standard amenity fees for a full day at recreation sites nationwide.
This annual fee-waiver event is designed to instill a sense of shared stewardship and educate the public about the importance of natural resources. This is the third time this year the Forest Service is offering fee waivers.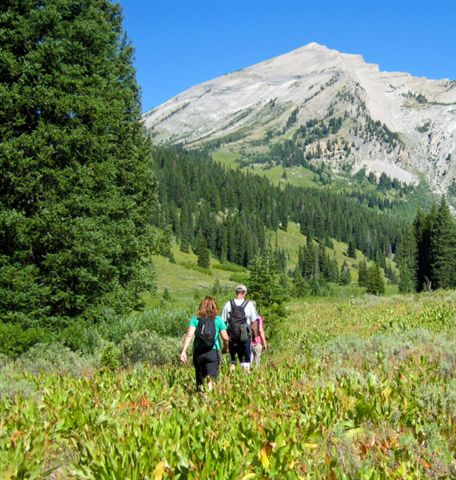 Visitors hiking on Bridger-Teton National Forest in Wyoming (Photo Credit: U.S. Department of Agriculture)
"We appreciate the work of so many volunteers who help us care for our special lands," said U.S. Forest Service Chief Tom Tidwell. "National Public Lands Day is a great opportunity for families to visit our national forests, experience the beauty of fall foliage, and perhaps be motivated to join in with other volunteers and help us restore America's precious natural resources."
Scheduled events support President Obama's America's Great Outdoors Initiative and First Lady Michelle Obama's Let's Move! Outside initiative. Activities planned on Forest Service locations include trail maintenance, river clean-ups and tree plantings.
Participants can click on the public lands day site to find a location nearby or visit http://www.rec.gov to get helps planning activities and making camping reservations on national forests and other federal lands throughout the year.
To learn more:
Read about Let's Move! Outside, and find more ways for your families to take advantage of America's great outdoors.