Grant Hill Advocates for Healthy Living
In July, I had the special privilege of joining the First Lady as a member of the President's official delegation to the opening ceremonies of the Olympics. Before attending the opening ceremonies, we gathered on the lawn of the residence of the U.S. Ambassador to Great Britain for a Let's Move! event to get kids exercising. Thousands of children were there, including the children of our military members stationed in the area, participating in dozens of sports. Mrs. Obama is definitely hands-on when she joins kids in exercise and games. She is a non-stop advocate for healthy activity and good, clean, competitive fun. And, she is a powerful role model for healthy living and the pursuit of fitness for Americans of all ages.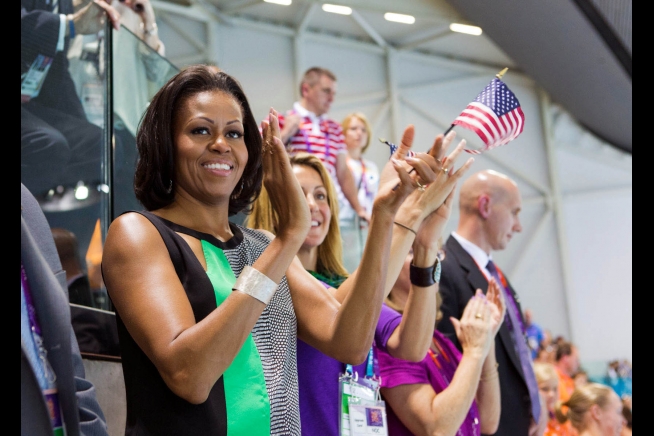 First Lady Michelle Obama watches the swimming finals and medal ceremonies at the Olympic Park Aquatics Center during the 2012 Summer Olympic Games in London, England, July 28, 2012. (Official White House Photo by Sonya N. Hebert)
Joining her was a thrill for me and all the athletes in attendance including Brandi Chastain, Summer Sanders, David Beckham and many others. I was especially excited to participate with my new friend, Gabriel Diaz de Leon, a medal winner in the shot put in many Paralympics and a role model to many others, myself included. Like Gabriel has done in many previous Paralympics, every member of this year's USA Olympic team has sacrificed so much in terms of time, outside activities and normal life to get to London, represent the United States and vie for a medal. I won a gold medal at the 1996 Olympics in Atlanta. The London Olympics are much different. The competitions are still the same. But the most important thing I noticed and appreciated in London are the larger number of women competing from every country, especially on the USA team. As the father of two daughters, I am always aware of opportunities for women in all walks of life, including in competitive athletic pursuits. Our female gymnasts, beach volleyball players, swimmers, track stars and so many others are among the most successful, accomplished, motivated and inspirational young people in our country.
As a professional athlete for the past 18 years, I am conscious of what it takes to compete at the highest level in a physically demanding sport on a world stage and in competition against others who are often much younger. I follow many common sense habits that coincide with the principles of Let's Move: I eat sensibly; avoid alcohol and cigarettes; workout every day; get adequate if not enough sleep; and try to avoid stressful situations. My children are in school most of the day but they are encouraged to play outside every day. They are on soccer and softball teams and take gymnastics lessons. They swim and just play tag with each other. Their generation is born technologically more advanced than my generation. But playing online basketball can never substitute for the energy, smarts and benefits associated with playing tag outside with your sister, or brother.
Thank you, Mrs. Obama, for leading all Americans to more healthy and rewarding lives.