Unhealthy Kids' Health Habits and How to Fix Them
Ed note: This week, First Lady Michelle Obama is guest editing the iVillage website. She worked with the editors there to create a weeklong series of great articles and videos with advice for families looking to Rev Up their Back to School Routine and introduce healthy new habits for everyone in the household. The editors of iVillage asked readers to share their own strategies for making changes stick in their families.
The bad habits kids learn in childhood can last a lifetime. Here's how to help your child break them for good.
Bad Habit: Devouring Seemingly Healthy Snacks and Drinks That Are Loaded with Sugar
"Many snacks that seem 'healthy,' such as granola bars, contain a lot of added sugar," says Kristi King, registered dietitian and spokesperson for the Academy of Nutrition and Dietetics. "Even beverages such as energy drinks contain few nutrients and lots of added sugar, which translates into calories your child doesn't need."
What to do: Offer water, water flavored with just a drizzle of fruit juice or low-fat milk instead of soda, juice and fruit juice drinks. At snack time give them whole foods, like apples with a smear of peanut butter, crackers and low-fat cheese or Greek yogurt with real fruit, says King.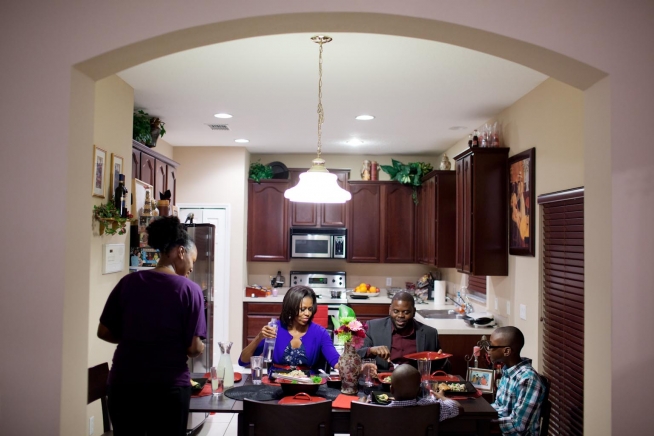 First Lady Michelle Obama has dinner with members of the Halls family at their home in Ocoee, Fla., Feb. 10, 2012. Kern Halls, 37, cooked a meal for the First Lady and his family based on the principles of "My Plate," a new USDA nutrition system that aims to replace the old pyramid system. (Official White House Photo by Chuck Kennedy)
Bad Habit: Skipping Breakfast
Kids skip breakfast more than any other meal of the day and the consequences are pretty dangerous. . "There's evidence that skipping breakfast is associated with a risk of being overweight and making poor food choices later in the day," says Angela Lemond, registered dietitian and spokesperson for the Academy of Nutrition and Dietetics. Kids who do eat breakfast are less irritable and better able to process information, pay attention and do well on tests.
What to do: Get kids up a few minutes earlier so they have time for breakfast. To keep them fuller longer, serve meals that contain protein, fiber and healthy fats (try scrambled egg in a whole wheat tortilla with low-fat cheese or avocado). For late risers, send them off to school with easy-to-grab foods such as hard-boiled eggs or an English muffin with peanut butter, says Lemond.
Bad Habit: Too Much Screen Time
Multiple studies show that too much TV and computer time is bad for kids. Watching fast-paced cartoons interfered with toddlers' attention spans and organizational skills, studies suggest. Plus, a Pediatrics study showed that video games are associated with attention problems in kids and young adults. And too much TV at a young age can result in bigger waistlines and a lower ability to play sports by the end of fourth grade, according to a study at University of Montreal.
What to do: For children younger than two, avoid TV altogether. For older kids, keep TVs out of kids' bedrooms and declare a "no media" rule during meal time. Limit the overall amount of time spent in front the TV, computer or video games to two hours per day, advises the American Academy of Pediatrics.
Bad Habit: Not Playing Outside
Half of preschool kids are not being taken outside to play every day by either parent, a recent study found. Yet playing outdoors is great for kids' motor development, vision, vitamin D level and mental health. Plus, it's fun!
What to do: The American Academy of Pediatrics recommends at least 60 minutes of daily exercise. Get outside with your kid at least once a day -- even if it's not for a full hour, some activity is better than none. Go on a bike ride, take a walk as a family after dinner, shoot some hoops, play Frisbee or a game of tag. You can even wash the car or walk the dog together for exercise. "The goal is to make activity a part of your lifestyle," says King.
Bad Habit: Boycotting Certain Foods (or Eating a Limited Diet)
Your kid has decided she's only going to eat French fries or she's boycotting anything red, and you're worried she's not getting the nutrition she needs. "Some food bouts last longer than others, but it's not unusual for toddlers to exclude certain foods," says Lemond. "It's a phase that may occur off on and on for one to two years."
What to do: Ride it out. The more upset you get, the more likely your toddler will persist. Offer foods she says she doesn't like up to 10 times -- kids need multiple exposures before they decide they like something. If your child is insistent about not eating the foods you offer, be patient, says Lemond. If she skips a meal over pickiness, she'll likely eat when she's hungry at the next meal.
Bad Habit: Not Getting Enough Calcium
Kids build about 90 percent of their adult bone mass by age 17, which is important for preventing osteoporosis and fractures later in life. Yet fewer than 1 in 10 girls and 1 in 4 boys ages 9 to 13 get adequate daily calcium, according to the National Institutes of Health (NIH).
What to do: Kids ages 4 to 8 need 1,000 mg of calcium per day; older kids need 1,300 mg. Serve calcium-rich foods for meals and snacks, and limit soda, especially as a replacement for milk. Encourage kids to eat low-fat dairy such as yogurt and cheese; serve leafy green veggies like kale and spinach with dinner; and buy calcium-fortified cereals. Kids between 1-13 years old should be taking 600 IUs of vitamin D to help absorb that bone-building calcium. Weight-bearing activities such as walking, running, dancing and basketball also help build bones, according to the NIH. So the more active kids are the better for their bones!