Real Moms Share: What I Did To Get My Kids to Eat Healthier
Ed note: This week, First Lady Michelle Obama is guest editing the iVillage website. She worked with the editors there to create a weeklong series of great articles and videos with advice for families looking to Rev Up their Back to School Routine and introduce healthy new habits for everyone in the household. The editors of iVillage asked readers to share their own strategies for making changes stick in their families.
From setting up a fun reward system to adding greens to their favorite foods, moms share their best advice for getting the kids to eat more fruits and veggies.
Keep Healthy Snacks Visible
"So we just clean our cupboards out, and we try to put all the snacks that are healthy in clear containers so that the kids can see them. When you see dried mangos, you remember you have them and it's actually a really good snack -- it fills you up, gives you good fiber. So we try to put healthy snacks in clear containers and just make sure that we always have something the kids can eat. -- First Lady Michelle Obama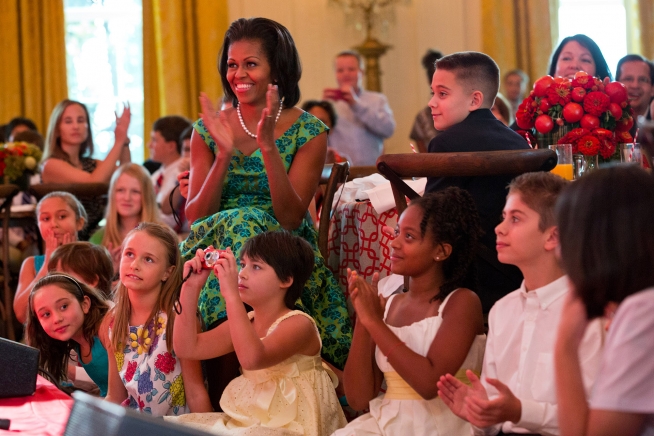 First Lady Michelle Obama and guests applaud as Big Time Rush performs during the Kids' State Dinner in the East Room of the White House, Aug. 20, 2012. (Official White House Photo by Sonya N. Hebert)
Snack Platter
"We make a 'snack plate' with four or five foods, including a vegetable, fruits and something they really like (maybe raisins or cheese). Make it colorful and tell them they need to eat a bit of everything." -- Kelly, Denver, Colo.
Food Challenges
"Our kids eat a ton of fruits and veggies as long as they are raw. This used to annoy me, but I figure as long as they are getting them in, I'll deal with it. We also started our own little food challenge, where the kids get to pick out a new fruit or veggie and we all try it. And, we have access to a lot of great farmer's markets and farm stands, so I let the kids pick out the veggies. They love it and seem to eat more when they're the ones doing the shopping." -- Sarah, Asheville, N.C.
Mix It All Together
"We make fruit smoothies a few mornings a week. The kids get to pick their fruit mix ('purple smoothies' include frozen raspberries, blueberries and blackberries, while 'yellow smoothies' mean frozen mango, pineapple and bananas). They take turns pushing buttons on the blender. I usually have to make two batches because everyone wants seconds. For veggies, the kids help my husband with our organic garden (planting the seeds, watering, etc.) and they like to taste the results of their labor. My older kids (3 and 6) will pick tomatoes off the vine; my 18-month-old joins them in devouring the bounty with a dash of salt and pepper. They also ask for dad's tasty lettuce on their sandwiches and enjoy chomping on the carrots. We grew corn in our back yard the past few years and we all loved that homegrown taste." -- Dianne, Highlands Ranch, Colo.
Touch-and-Feel Test
"Overall, my kids are good eaters, but something I've done is take them through the produce section or the farmer's market and let them look and touch, feel and respond to the veggies that appeal to them." -- Eileen, Summit, N.J.
Let Them Shop
"My step-daughter goes through a recipe book every now and then -- preferably one with pictures -- and picks out meals. I also try to get her to help me cook, and, since she has buy-in, she usually then eats it. She also sometimes helps me pick out the meals for the week and writes them down on a schedule for the fridge. She likes to be in charge, since she knows ahead of time there is no whining." -- Betsy, Littleton, Colo.
Start a Garden
"Three years ago, we began planting a family garden together. Our kids love this. I don't think they would be so into vegetables and fruits if we didn't plant them and grow them together, pick the produce and eat it right from our garden. We do this garden every year and it gets bigger every year!" -- Melody, Coralville, Iowa
Have a Tea Party
"Recently, my daughters had a tea party and they made their own snacks, cutting up bananas, strawberries, baby carrots and popcorn (that's the treat part). They set it all up using good dishes and teacups, and put all the fruit and veggies on a big platter that they placed in the middle of the coffee table. My older daughter, Sadie, evenly dispersed all the food and once everyone was seated they devoured everything. For some reason, sitting at a tea party made the healthy food look great!" -- Rita, Denver, Colo.
Disguise Good Food as Bad Food
"Blend up cooked cauliflower with a little butter and milk. It looks like mashed potatoes, tastes great and is super healthy." -- Lauren, Dallas, Texas
Appetizers for the Kiddos
"I set out an appetizer of veggies and dip or fruit (peppers and hummus or a plate of watermelon) before dinner. Inevitably, my kids are waiting on me because they always seem to be starving! So, while I'm cooking, they are eating what I call 'something from the earth.' Then, when its dinner time, I don't have to be on their case because I'm already assured they have had something healthy." -- Harmony, Denver, Colo.
Make a Veggie Smoothie
"Blend fruits and veggies up in a smoothie. I get the kids to drink spinach, broccoli and kale that way." -- Cindy, West Branch, Iowa
Make Good Stuff Available
"For us, snacking is the hard part. So I cut up melons or de-stem strawberries and put them in easy-to-open Tupperware containers stored on the bottom shelf of the fridge. When my 4-year-old wants something to eat, it's the only thing in the fridge she can reach and get herself." -- Kim, Englewood, Colo.
Cook Together
"Invite your kids early on to plant vegetable gardens and help you cook from scratch. When my boys were little and we made spaghetti, they'd dip their spoons into the can of tomato paste and eat it until it was gone -- I always had to have an extra can on hand so we had enough for the sauce. And when we made lasagna, they'd always ask if they could nibble on 'trees,' what they called the stems of fresh parsley. I don't think you have to trick them into eating healthy things. You just have to give them homemade healthy foods from the beginning of their lives. Then these become the things they crave." -- Jennifer, Thornton, Colo.
Be Consistent
"Whatever tactic you use, you have to be consistent because your kids will call your bluff. Having a child with autism makes it that much harder. When Jade was younger, say 3 or 4, it was a lot of persistence and a practice in patience. We had to have a favorite snack next to the fruit and/or vegetable and would say, like 100 times, 'First the (blank), then the potato chip.' And we would do it one bite at a time: One bite of a carrot, then one bite of potato chip. As he got older, he really liked his veggies so it wasn't a problem so much as just trying new foods in general." -- Christina, Westminster, Calif.
Make Them Want to Be Little Adults
"I convinced my kids that there were kid taste buds and adult taste buds. I told them that when they were more grown up, their adult taste buds would come in and they would like vegetables. Every time I served them a vegetable or something else that they insisted they didn't like, I would say, 'Give it a try so that we can see if you have your adult taste buds yet.' Eventually, after trying the despised food a number of times, they would proclaim that their adult taste buds had come in and that they finally liked it!" -- Jill, Iowa City, Iowa
Make Dinner Buffet Style
"To get my kids to eat fruits and veggies, we try to serve dinner buffet style; they stay in control and get to pick the food themselves and, surprisingly, they will put the vegetables on their plate and eat them much more readily than if I make the plate and serve them. They really like salad bar night, too, and will load up their plates with all salad fixings. -- Kim, Denver, Colo.
Turn Veggies into Chips
"After hearing so many people raving about kale chips I finally went ahead and made some -- and my kids, ages 4-1/2 and 2-1/2, devoured them! You just wash and tear some kale, toss it in a little olive oil, salt and pepper and roast it on a baking sheet until it's crispy, about 12 minutes at 375F. Roasting takes away a lot of the bitterness and brings out a milder, nutty flavor. Since then, I've successfully 'chipped' other previously-avoided green vegetables such as broccoli and brussels sprouts." -- Kathy, San Diego, Calif.
Grow It At Home!
"My kids have to at least try a food, even if it's just a lick. I just keep putting it on their plates, hoping one day they'll like eating all of it. We also have a vegetable garden, and I try to plant what they like to eat -- beets, broccoli, kohlrabi, beans. So they get to help, and maybe it even motivates them to eat what we've grown." -- Melissa, Denver, Colo.