Real Moms Share: Easy Ways to Plan Meals for the Week
Ed note: This week, First Lady Michelle Obama is guest editing the iVillage website. She worked with the editors there to create a weeklong series of great articles and videos with advice for families looking to Rev Up their Back to School Routine and introduce healthy new habits for everyone in the household. The editors of iVillage asked readers to share their own strategies for making changes stick in their families.
Planning family meals for the week can sometimes feel like you're facing a Quickfire challenge on Top Chef: One wrong move and you'll be at the mercy of the most ruthless judges -- your cranky, hungry kids. But feeding your family doesn't need to be a source of stress. Check out these smart tips from iVillage moms to help you plan out a week's worth of meals.
Try Shopping Online
"I was the primary shopper before coming to the White House. I'd have my list for the week. And oftentimes, I could get [to the store] during the weekday when it wasn't crowded. So I was very efficient with my shopping, get in and out. And then, I discovered online grocery shopping, which was actually Moses coming down with the Ten Commandments. It was like, whoa, I see the light. Online grocery shopping really helped take some time off of my schedule." -- First Lady Michelle Obama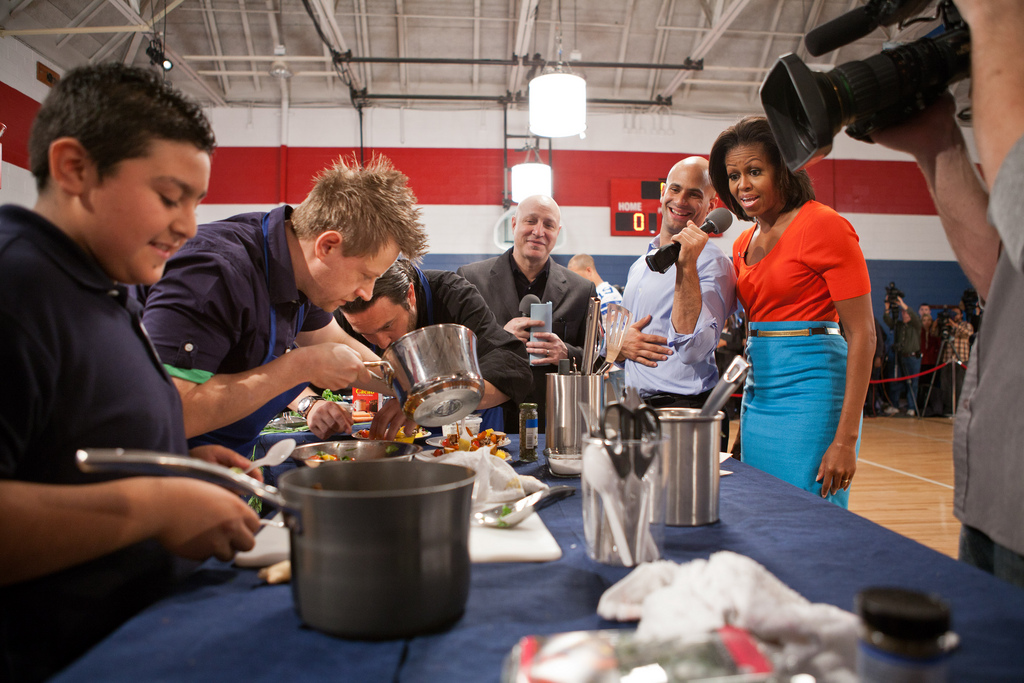 First Lady Michelle Obama, Sam Kass, Senior Policy Advisor for Healthy Food Initiatives, and Top Chef Head Judge Tom Colicchio, center, watch as "chef'testants" from past seasons of "Top Chef" take part in a cooking competition at the Kleberg Rylie Recreation Center in Dallas, Texas, Feb. 10, 2012. The contest highlighted the work being done in schools across America to provide healthier food to students. (Official White House Photo by Sonya N. Hebert)
Keep It Fresh
"I'm very intentional about the shopping, but as far as recipes and planning meals, it's very basic. We stick to vegetables and meat, and we just identify a menu of vegetables that we like and we load up on those. I generally shop twice a week because I prefer fresh vegetables and fresh fish -- so I'm usually in the store on Sunday and Wednesday." -- Sandy, friend of First Lady Michelle Obama
Buy, Season and Freeze
"To save time and money, I buy my meat in bulk, which I then season, divide into portions and freeze. When prepping for a week's worth of meals, I place each entrée in a glass container, so I can easily identify its content at a moment's notice." -- 
Maimah, Aldie, VA
Reinvent Leftovers
"We have a large family (6 people) and so when I plan for the week, I like to buy meat in large quantities, cook big meals and use the leftovers for lunch the following day. Another thing I enjoy doing is using leftovers to create another dinner that's a spin-off of its predecessor. For instance, I'll make tacos one night, save the leftover meat, and then make burritos the following night." -- Shara, Pine, AZ
Take a Vote
"My best tip is to ask family members to tell you their five favorite meals. Make a list of all the ingredients you need for each dish, and then stock those ingredients in your freezer or pantry. Keep a running list of the favorite meals so you can cycle them through your repertoire. When meal planning for the week, consult the list to save time and Mommy brain power." -- Stacey, Fair Lawn, New Jersey
Put the Picky Eaters to Work
"I have my picky 15-year-old help with menu planning. She goes through cookbooks and makes a list of all the recipes she likes. It's as great way to expose her to new types of foods while also making sure she'll eat what I make." -- Sharon, Fort Bragg, CA
The Freezer Is Your Friend
"With three kids in sports, we're all over the map when it comes to family dinner. To help keep my cool, I plan my meals by looking in my freezer! I always make double batches of taco meat, pastas and other family favorites that can be pulled out of the freezer and popped into the oven or on the stovetop to reheat." -- Wendy, Newberry, MI
Crock Pots Rock
"Once the school year starts, my family's schedule gets busy. Between team sports, homework and my work, dinner can easily fall by the wayside. To make sure my kids eat well-balanced and nutritious meals throughout the week, I use my crock-pot. I can start cooking first thing in the morning simply by placing everything in the pot. The meal will cook throughout the day and be ready when we finally all get home." --Mindy, Deerfield, IL
Make a Rainbow
"Aside from having a husband who is an amazing chef, my biggest tip for planning family meals is to plan a menu for the week as a family activity. We plan each meal by using a checklist of proteins, fruits and veggies and side dishes of all the colors of the rainbow. This makes it much more fun and exciting when the kids actually choose to eat or try foods like purple eggplant or yellow squash blossoms." -- Britt, Newport Beach, CA
Make It a Family Affair
"As a family life teacher, author and 
mother of five, life is busy! So I have each of my three older children 
choose one night a week when they are responsible for cooking the family meal. At the beginning of the week, they write out a list of the ingredients they need and I do the shopping. Then it's up to them to do the prep work, cooking, and clean up. It's a great way to build skills while reinforcing independence and self-confidence. My two younger children love helping
me prepare meals, so they are practicing for when they get to the point, 
they can cook a meal on their own as well." -- Anastasia, Bridgehampton, NY
Split the Work
"When my girls were young, my neighbor, Karen, and I would exchange meals twice a week. It worked like a charm. On Tuesdays, I would double my recipe -- one for my family and then I'd drop the other half off to Karen's house. On Thursdays, she did the same for me. My family loved it when Karen made dinner, the entrée was always a delicious and I loved having a little extra time out of the kitchen!" -- Suzanne, Bothell, WA
Be Flexible With Menu Planning
"I used to be diligent about making a very precise menu for every day of the week, but I actually found it more stressful to be tied into food that my family may or may not be excited about that day. Now I plan a loose guide of the proteins and general veggies for the week and make what sounds good to us in the moment. It's actually a lot less stressful!" -- Heather, Corinth, TX