Yummy Cabbage Sloppy Joes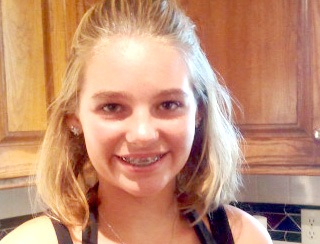 "We were making dinner one night, and Mom had a lot of cabbage, which I wasn't sure I liked. She also had lean ground beef, which I love," says Rori, who also is a big fan of sloppy joes. "Mom showed me how to make cabbage, beef, and a bunch of other vegetables taste better than a package [of sloppy joes]. She says this is an affordable meal for us, since we can make a pound of beef last several meals. I like mine with fresh fruit."—Rori Coyne, age 12, Kansas
Makes 8 servings
Ingredients:
1 pound lean ground beef
1 medium onion, diced
1 medium zucchini, shredded or diced
2 ribs celery, diced
1/2 cup chopped red pepper
1 1/2 cups finely shredded cabbage
1 cup tomato sauce or crushed tomatoes
1 tablespoon brown sugar
2 tablespoons lemon juice
1 tablespoon white vinegar
1 tablespoon Worcestershire sauce
1 tablespoon mustard
1/2 teaspoon salt
1/4 teaspoon freshly ground black pepper
8 sandwich rolls, split (optional)
Preparation:
In a large skillet, cook the beef until cooked through, about five minutes. Drain the fat from the skillet, and reserve the meat on a plate.
In the same pan over moderate heat, cook the onion, zucchini, celery, red pepper, and cabbage until all the vegetables are crisp-tender, about 4 minutes. Add the cooked beef to the pan and stir to combine.
In a small bowl, combine the tomato sauce or crushed tomatoes, brown sugar, lemon juice, vinegar, Worcestershire sauce, mustard, salt, and pepper. Pour the sauce into the pan with the beef and vegetables and simmer, stirring occasionally, until thickened, about 8 minutes.
While the sloppy joes are simmering, toast the buns in the oven or toaster oven.
Evenly divide the mixture among the toasted bun bottoms, top with the other halves, and serve.
Featured in the Healthy Lunchtime Challenge. Check out all the winning recipes here.