Scrumptious Salmon Salad & Strawberryana Smoothie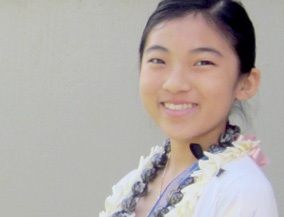 "I created this recipe because I love to eat salmon. I decided to combine some of my other favorite foods to make a healthy lunch," says Stefani. "My recipe is served with half a cup of brown rice topped with furikake (seasoned seaweed). I enjoy drinking fruit smoothies, so I blended strawberries, bananas, milk, and some low-fat yogurt!" We're providing both of Stefani's recipes, because her smoothie is a classic recipe that you can improvise on with different fruits as well as by adding wheat germ, flaxseed, or peanut butter.—Stefani Shimomura-Sakamoto, age 11, Hawaii
Makes 1 serving
Ingredients:
1 tablespoon vegetable or olive oil
1 (4-ounce) salmon fillet
1 garlic clove, minced
Salt
Pepper
1 cup organic spring greens
1/2 cup cooked brown rice
1 teaspoon furikake (seasoned seaweed)
For garnish:
Sliced pineapple, strawberries, seedless grapes, bananas, lychees, oranges, and apples
Preparation:
In a large sauté pan over moderate heat, warm the vegetable or olive oil. Add the salmon and garlic, and cook until the salmon is golden brown, about 2 minutes. Flip the salmon and continue cooking until golden brown and just cooked through, about 4 more minutes. Season to taste with salt and pepper.
Arrange the spring greens on a plate and top with the salmon. Surround the salad with your favorite fruit or serve separately. Serve with a scoop of brown rice seasoned with furikake.
Strawberryana Smoothie
Makes 1 Serving
Ingredients:
1 cup low-fat milk
1 cup low-fat plain or vanilla yogurt
1 cup frozen strawberries
1 frozen banana, peeled
Preparation:
In a blender, combine the milk, yogurt, strawberries, and banana. Blend until thoroughly combined.
Featured in the Healthy Lunchtime Challenge. Check out all the winning recipes here.