Veggie Pizza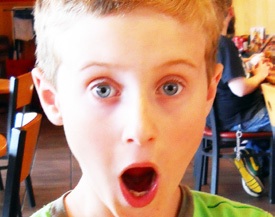 Robbie's mom Cassie learned how to make a dessert fruit pizza and began making a vegetable version for her family, including her son Robert. "My children have their own favorite toppings, and we change these based on the season, what is available locally and at our farmer's market. Any of the herbs or vegetables you can grow in your own garden make this more fun to make," she says. The family uses an already-baked thin-crust pizza and puts their just-picked veggies on the pizza. This version is a more traditional way of making pizza, but the Robinsons' version is great for summer evenings, as you don't turn the oven on. –Robert Robinson, age 9, Oregon
Makes 6 servings
Ingredients:
1 (12-inch) thin store-bought pizza crust
1 tablespoon olive oil
2 cups finely chopped broccoli florets
6 scallions, white and light green parts only, chopped
2 cups local mushrooms, trimmed and sliced
3 small green zucchini, trimmed and chopped
3 small yellow squash, trimmed and chopped
12 grape tomatoes, halved
1/2 cup reduced-fat cream cheese
2 tablespoons 1 percent milk or rice milk
1/2 cup pitted, sliced black olives
1/2 cup minced fresh basil
1/2 cup minced chives
1/2 cup shredded Parmesan
Preparation:
Preheat the oven to 425°F. Lightly oil a large baking sheet or get out a pizza stone.
Cook the pizza crust on the pan or stone until lightly brown on top, about 10 minutes.
While the crust is baking, in a large sauté pan over moderate heat, warm the olive oil. Add the broccoli, scallions, mushrooms, zucchini, squash, and tomatoes, and cook until just tender, about 5 minutes.
Remove the pizza crust from the oven and let cool for 5 minutes, leaving the oven on. In a small bowl, whisk together the cream cheese and milk. Spread on the pizza crust, leaving a 1/2-inch border, and top with the vegetables, olives, basil, chives, and Parmesan. Bake until the cheese is bubbling and lightly brown, about 10 minutes. Serve hot or cold.
Featured in the Healthy Lunchtime Challenge. Check out more winning recipes here.