Turkey Vegetable Soup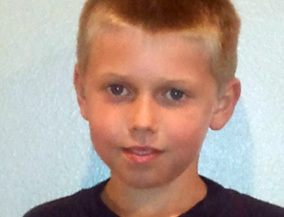 Logan's mom says, "Ever since my children have been babies, we as a family have stayed away from the fast foods and frozen foods section of the grocery store. I lost my father at a young age due to health issues from being obese, and I make it a priority to teach my children the importance of healthy eating and longevity of life." Logan likes to round out this meal with whole-wheat bread, milk, and raspberries. –Logan Rosene, age 8, North Dakota
Makes 8 servings
Ingredients:
1 pound ground turkey
32 ounces low-sodium chicken broth
2 cups thinly sliced carrots
6 celery ribs, trimmed and cut into ¼-inch-thick slices
2 cups thinly sliced cabbage
2 (15-ounce) cans kidney beans, drained and rinsed
1 (28-ounce) can crushed tomatoes
Salt and pepper
Preparation:
1. In a large sauté pan over moderate heat, cook the turkey until browned and cooked through, about 8 minutes.
2. While the turkey is cooking, in a large stockpot, combine the chicken broth with the carrots, celery, cabbage, beans, and tomatoes. Add the cooked turkey and simmer, over moderate heat until the vegetables are soft, about 30 minutes. Season to taste with salt and pepper.
Featured in the Healthy Lunchtime Challenge. Check out all the winning recipes here.