Turkey Dumplings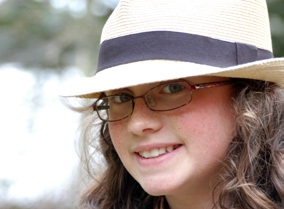 Annalee's family are big fans of sushi and dumplings, and decided to make them at home. "We make a large batch of dumplings and freeze them on trays so that they are a fast meal choice," says Annalee's mom, Marydale. They also make veggie sushi with carrots, cucumbers, and avocados. –Annalee Carroll, age 12, Maine
Makes 6 to 8 servings
Ingredients:
2 tablespoons vegetable oil
1 tablespoon minced fresh ginger
2 scallions, white and light green parts only, thinly sliced
1 small garlic clove, minced
2 cups shredded green cabbage
1/2 cup mung bean sprouts (optional)
1/4 cup plus 2 tablespoons low-sodium soy sauce
1/2 pound ground turkey or chicken
About 32 (3 1/2-inch-diameter) wonton skins
Rice vinegar
Sesame oil
Preparation:
In a large nonstick skillet over moderate heat, warm 1 tablespoon vegetable oil. Add the ginger, scallions, and garlic, and sauté, stirring occasionally, until fragrant, about 2 minutes. Add the cabbage and sauté, stirring occasionally, until wilted, about 4 minutes. Stir in the bean sprouts, if using, then remove from the heat and stir in 2 tablespoons of soy sauce. Let cool, then transfer to a bowl, add the meat, and mix with hands until blended. Wash the skillet.
Lay 4 wontons skins on a work surface. Add a scant tablespoon of the filling in the center of each. Brush around the edge of the wrappers with water and then fold the wrappers in half, pinching to seal. Place dumplings, pinched-edge-up, on a wax-paper-lined baking sheet and cover with a damp towel. Continue making dumplings with the remaining wonton skins and filling.
Add 1/2 inch of water and the remaining 1 tablespoon vegetable oil to the same large skillet and bring to a simmer over moderately high heat. Add about half the dumplings, cover and cook until the wrappers are tender and the meat is cooked through, about 8 minutes. Repeat with the remaining dumplings, adding more water and oil as necessary.
In a small bowl, combine the remaining 1/4 cup soy sauce with 1 tablespoon water, a dash of rice vinegar, and sesame oil. Whisk together and serve with the dumplings.
Featured in the Healthy Lunchtime Challenge. Check out all the winning recipes here.