Power Pesto Pasta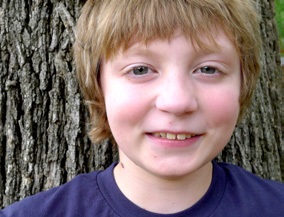 "I like garlic so much I decided to make pesto, and now I like to eat Power Pesto Pasta," says Harrison. "After Thanksgiving I plant my garlic in our garden. I like to plant as much garlic as I can. In the spring I grow basil in our backyard in pots. In the summer we have basil that is ready to be picked and garlic ready to pull out of the ground. The spinach puts Power in the Pesto!" —Harrison Booker, age 9, Oklahoma
Makes 4 servings
Ingredients:
8 ounces whole-wheat pasta, such as rotelle
3 cups loosely packed fresh basil
1 1/4 cups fresh baby spinach leaves
2 tablespoons walnuts or pine nuts
1 garlic clove, peeled
¼ cup plus 1 tablespoon extra-virgin olive oil
3 tablespoons freshly grated Parmigiano-Reggiano cheese
Pinch of salt
1/4 teaspoon black pepper
1 cup sliced yellow squash
1/2 cup halved cherry tomatoes
1 cup halved green beans
Preparation:
In a large pot of boiling salted water, cook the pasta until al dente, about 6 minutes.
While the past is cooking, in a food processor or blender, blend the basil, spinach, walnuts or pine nuts, garlic, 1/4 cup of olive oil, Parmigiano-Reggiano, salt, and pepper. If it's too thick, add a few more teaspoons of olive oil.
In a large saucepan over moderate heat, warm the remaining 1 tablespoon olive oil, then cook the squash, cherry tomatoes, and green beans until soft and slightly brown, about 4 minutes. Add the cooked pasta and the pesto, and stir to combine.
Divide the pasta, veggies, and pesto among four bowls and serve.
Featured in the Healthy Lunchtime Challenge. Check out more winning recipes here.