Pitaya Healthy Salad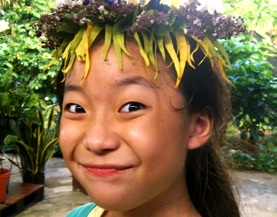 Esther's mom, Dae Young, is a big fan of the high-fiber pitaya fruit (dragonfruit), and happily, so is Esther. They combined it with chicken and cabbage to make a healthy, vibrant salad. They like to layer the salad ingredients when they serve it and if you do this, serve the dressing on the side. –Esther Huh, age 11, Northern Mariana Islands
Makes 1 serving
Ingredients:
1 cup diced cooked chicken breast
½ pitaya (dragonfruit) or 2 kiwi, peeled and diced
2 slices pineapple, peeled, cored, and diced
½ head cabbage, cored, cut into ¼-inch-thick slices, and chopped
1/3 cup plain reduced-fat yogurt
1 tablespoon low-sodium soy sauce
2 teaspoons white vinegar
1 teaspoon sugar
Pinch cayenne or minced hot red chile to taste
2 teaspoons black sesame seeds
Preparation:
1. In a large bowl, combine the chicken, pitaya, pineapple, and cabbage. In a small bowl, whisk together the yogurt, soy sauce, vinegar, sugar, and cayenne. Add the yogurt sauce to the fruit and cabbage, and toss to coat. Sprinkle with sesame seeds and serve.
Featured in the Healthy Lunchtime Challenge. Check out all the winning recipes here.