Macaroni Casserole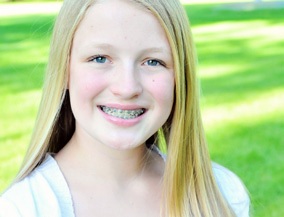 "I love pasta, and I wanted to come up with something filling and healthy at the same time. Adding protein and a vegetable to one of my favorite dishes made it creative, healthy, and delicious," says Grace. She likes to serve this with a side of fruit, such as grapes or watermelon. –Grace Ratchford, age 12, Wyoming
Makes 4 to 6 servings
Ingredients:
8 ounces whole-wheat elbow macaroni
2 tablespoons unsalted butter
2 tablespoons all-purpose flour
1 cup 1-percent milk
2 1/2 cups shredded sharp Cheddar cheese
1/2 teaspoon kosher salt
1/4 teaspoon freshly ground black pepper
3 organic turkey hot dogs, boiled and cut into bite-size pieces
1 small bunch broccoli, steamed and cut into bite-size pieces
1/2 cup crushed cornflakes
1 to 2 tablespoons chopped fresh flat-leaf parsley
Preparation:
Preheat the oven to 350°F and grease a 9- by 13-inch baking pan.
In a large saucepan of boiling salted water, cook the macaroni according to the package directions. Drain in a colander and rinse with cold water until cool.
In the same saucepan over moderate heat, melt the butter. Add the flour and stir for 1 minute. Gradually add the milk and cook, whisking, until hot and thick. Add the Cheddar cheese, salt, and pepper and whisk to combine. Remove the sauce from the heat and add the noodles, stirring well to combine. Stir in the hot dogs and broccoli.
Transfer the noodle mixture to the greased pan and sprinkle with cornflakes and parsley. Bake until bubbly, about 20 minutes, and serve.
Featured in the Healthy Lunchtime Challenge. Check out more winning recipes here.