Kickin' Chicken Salad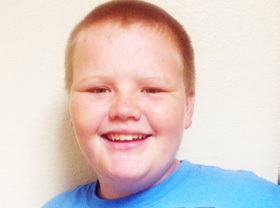 "This is one of Trey's favorite salads," says mom Carrie. "We serve it with a whole-grain baguette to get all of the food groups in. This is a great-tasting, healthy lunch that my kids enjoy because there are so many flavors and textures." Trey likes this with raspberry vinaigrette, but a simple olive oil and balsamic vinegar dressing would be delicious, too. —Trey Sims, age 12, Arkansas
Makes 8 servings
Ingredients:
6 ounces fresh baby spinach
1 head lettuce, torn into bite-size pieces
2 cups chopped grilled chicken
1 pint grape tomatoes, halved
1/2 cup sliced strawberries
1/2 cup blueberries
1/2 cup grapes, halved
1/2 cup grated carrots
1/2 cup sliced avocado
1/2 cup sliced cucumber
1 cup mozzarella cubes
1 cup honey-roasted pecans
Low-fat salad dressing
Preparation:
In a large bowl, combine the spinach, lettuce, chicken, tomatoes, strawberries, blueberries, grapes, carrots, avocado, cucumber, mozzarella, and pecans. Toss to combine, or stack in layers, and serve with your favorite low-fat salad dressing.
Featured in the Healthy Lunchtime Challenge. Check out all the winning recipes here.