Heavenly Lunch Wrap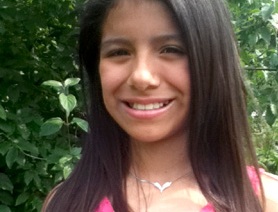 "Every day (and trust me, every day it annoys me) I eat this because it's good for my health," says Betsy. "This recipe has one very important and new ingredient, which is quinoa. My mom grew up eating this amazing Incan food. Whenever I eat this food, I know that I've been blessed with the energy to focus more at school." Betsy has this with a slice of watermelon, a hard-boiled egg, some cucumber slices, and low-fat milk. –Betsy DaSilva, age 10, Connecticut
Makes 1 serving
Ingredients:
1 (10-inch) whole-grain wrap
1 teaspoon mayonnaise
1 tablespoon cooked quinoa
6 fresh baby spinach leaves
4 slices tomato
3 slices turkey breast
Preparation:
1. Place the wrap on a plate and evenly spread the mayonnaise over the entire surface. Spoon the quinoa in the middle of the wrap, then top with spinach, tomato, and turkey.
2. Tightly roll the wrap around the filling, from bottom to top, overlapping one end, burrito style.
Featured in the Healthy Lunchtime Challenge. Check out all the winning recipes here.