Golden Moroccan Butternut Stew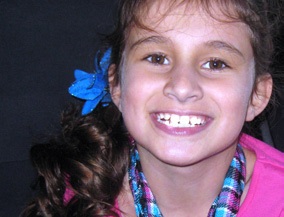 "One of my favorite vegetables is butternut squash. My mom uses Moroccan spices to add flavor to our meals, and this inspired me to make this stew," says Alexis. "This butternut stew has all my favorite vegetables and spices; this stew is pretty much me in a pot." Alexis serves this on top of couscous and likes to have low-fat Key lime pie yogurt for dessert. –Alexis Nelson, age 10, West Virginia
Makes 4 to 6 servings
Ingredients:
3 tablespoons extra-virgin olive oil
1 cup finely chopped shallots
4 garlic cloves, minced
1 (14-ounce) can crushed plum tomatoes
1 whole cinnamon stick
1/4 teaspoon ground ginger
1/4 teaspoon ground cumin
1/2 teaspoon ground coriander
1 teaspoon garam masala
1/4 teaspoon crushed red pepper
1 medium butternut squash, peeled, seeded, and cut into 1-inch pieces
1 (16-ounce) can chickpeas, drained and rinsed
3 1/2 cups low-sodium vegetable broth
1/2 cup golden raisins
3 cups chopped fresh baby spinach
2 cups cooked couscous
Juice of 1/2 lime
1 tablespoon golden honey
Salt and pepper
For garnish: Fresh cilantro and slivered almonds
Preparation:
In a large saucepan over moderate heat, warm the olive oil. Add the shallots and sauté, stirring occasionally, until soft, about 6 minutes. Add the garlic, tomatoes, cinnamon, ginger, cumin, coriander, garam masala, and crushed red pepper. Cook until the cinnamon stick unfurls and the tomatoes are cooked down, about 4 minutes. Add the butternut squash, chickpeas, vegetable broth, and raisins, and bring to a simmer. Cook, partially covered, until the butternut squash is tender, about 20 minutes. Add the spinach and cook until wilted, about 2 minutes.
While the stew is simmering, warm the couscous in the microwave.
Add the lime juice and honey to the stew, and season to taste with salt and pepper. Divide the hot couscous among four bowls, top with the stew, garnish with cilantro and toasted almonds, and serve.
Featured in the Healthy Lunchtime Challenge. Check out more winning recipes here.