Fish Tacos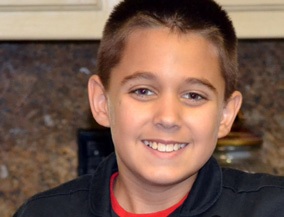 "I am the JR. Food Critic from Louisiana," says Michael. "I love to cook with my family and go on food adventures. We made up this fish taco recipe. You can see my other dishes at jrfoodcritic.com." –Michael Prados, age 12, Louisiana
Makes 4 to 8 servings
Ingredients:
2 pounds fresh mahimahi or other white flaky fish, cut into 8 pieces
2 tablespoons low-sodium soy sauce
1 (14- to 16-ounce) bag shredded cabbage slaw
1/4 cup plus 1 tablespoon olive oil
1 tablespoon freshly squeezed lime juice
1 tablespoon orange juice
1 tablespoon rice-wine vinegar
Freshly ground black pepper
8 whole-wheat tortillas
For garnish: Sliced green apple, guacamole, and salsa
Preparation:
In a large bowl, combine the fish and soy sauce, and stir to completely coat the fish in soy sauce. Cover and refrigerate at least 1 hour and up to 3 hours.
Place the shredded cabbage slaw in a large bowl.
In a small bowl, whisk the 1/4 cup of olive oil with the lime juice, orange juice, and rice-wine vinegar. Pour the dressing over the shredded cabbage slaw and toss to combine.
In a large saute; pan over moderately high heat, warm the remaining 1 tablespoon olive oil. Sprinkle the fish lightly with black pepper and sear, turning once, until cooked through, about 2 minutes per side.
While the fish is cooking, warm the tortillas in the microwave.
On a work surface or individual plates, divide the fish among the 8 tortillas. Top each taco with slaw, and fold or roll up the tacos. Serve with sliced green apple, guacamole, salsa, or other fresh toppings.
Featured in the Healthy Lunchtime Challenge. Check out all the winning recipes here.