Fish Chowder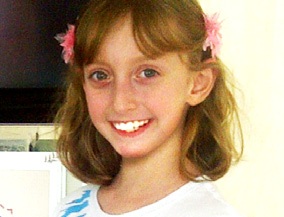 "Senator Mark Warner's recipe for 'creamless' Asparagus Soup, which I found in the Celebrate Virginia Cookbook, inspired me to create a chowder recipe," says Madeleine, who used milk in this recipe because it is the state beverage of Virginia. She would serve this with a fruity salad of spring greens, cherry tomatoes, strawberries, dried cranberries, and a citrus vinaigrette, with whole-grain bread. –Madeleine Steppel, age 9, Virginia
Makes 4 to 6 servings
Ingredients:
3 white potatoes (about 12 ounces total), peeled and cut into ½-inch cubes
1 pound bag frozen peas and carrots, thawed
3 tablespoons unsalted butter
1 small onion, finely chopped
1 garlic clove, minced
1/4 cup all-purpose flour
4 cups low-fat milk
1½ to 2 pounds skinless white fish fillet, such as bass, tilapia, or flounder, cut into 2-inch pieces
Salt and white pepper
Preparation:
Place potatoes in a large glass microwave-safe bowl. Add enough cool water to just cover the potatoes, and microwave on high for 4 minutes. Add the peas and carrots, and microwave on high until the vegetables are tender, about 3 minutes. Drain the vegetables and set aside. (Or, boil the vegetables until soft, about 8 minutes.)
In a large saucepan over moderate heat, melt the butter. Add the onion and garlic, and sauté, stirring occasionally, until golden, 4 to 5 minutes. Lower the heat to moderately low, add the flour, and whisk for 2 minutes to make a roux. Gradually whisk in 1 cup of milk and stir until hot and creamy, making sure to whisk out any lumps. Gradually whisk in the remaining 3 cups milk and cook, whisking, until steaming hot, about 5 minutes.
Add the fish and the cooked vegetables, and cook over moderate heat, stirring often, until the fish is cooked through and flaky. Season to taste with salt and white pepper.
Featured in the Healthy Lunchtime Challenge. Check out more winning recipes here.