Falafel Wrap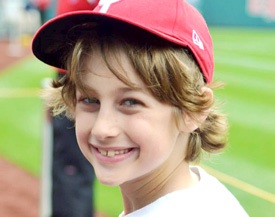 Evan's mom, Jami, reports that they have always enjoyed cooking together. "I knew he liked hummus, so I introduced this version of falafel that was not deep-fried," she says. "I offered to make this in pita, but he said he preferred it in a tortilla, which he then assembled with his favorite toppings! We made a healthy, sweet salad to serve on the side as a complement." —Evan Clark, age 9, Pennsylvania
Makes 2 servings
Ingredients:
1 (15-ounce) can garbanzo beans (chickpeas), drained and rinsed
1 small red onion, finely chopped
3 garlic cloves, minced
1/4 cup chopped fresh cilantro
1/4 cup plus 2 tablespoons sesame tahini
3 tablespoons lemon juice
2 tablespoons plus 1 teaspoon olive oil
1 1/2 teaspoon ground cumin
1 teaspoon ground coriander
1/4 teaspoon cayenne pepper
1 teaspoon baking powder
2 tablespoons flour, if necessary
Kosher salt
1/4 cup plain nonfat yogurt
2 large multigrain tortillas
1 tomato, thinly sliced
1/2 cup arugula or fresh baby spinach
1 medium carrot, peeled and shredded
Fresh cilantro (optional)
Preparation:
In a medium bowl, mash the beans with a fork. Add the onion, 2 garlic cloves, cilantro, 2 tablespoons tahini, 1 tablespoon lemon juice, 1 teaspoon olive oil, cumin, coriander, cayenne powder, and baking powder. If the mix is too wet or dry, adjust with flour or water, 1 teaspoon at a time. Season to taste with salt.
In a large skillet over moderate heat, warm the remaining 2 tablespoons olive oil. Form the bean mixture into four patties and cook, flipping, until lightly browned on both sides, about 6 minutes total. Cut each patty in half.
While the patties are cooking, in a small bowl, combine the yogurt, the remaining 1/4 cup tahini, and the remaining 2 tablespoons lemon juice.
Place the wraps on individual plates and top with the patties, tomatoes, arugula, carrot, cilantro, and some yogurt-tahini sauce. Roll up the wrap, and slice in half for easier eating.
Featured in the Healthy Lunchtime Challenge. Check out more winning recipes here.