Chicken Spinach Pasta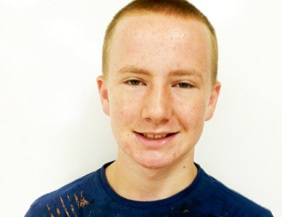 "I was trying to think of something for lunch, and I found these [ingredients] in the fridge and spice cabinets," says Kyle, who recommends serving this pasta with a small fruit salad on the side. –Kyle Moore, age 12, Missouri
Makes 6 servings
Ingredients:
1 pound linguine
3 tablespoons olive oil
2 garlic cloves, minced
2 large tomatoes, diced
2 grilled or cooked skinless chicken breasts, cut into small pieces
3 cups fresh spinach
1/4 teaspoon dried oregano
1/4 teaspoon dried basil
1/4 cup freshly grated Parmesan cheese
Salt and pepper
Preparation:
In a large pot of boiling salted water, cook the linguine until al dente, 8 to 10 minutes. Drain the linguine and place it in a large serving bowl.
While the linguine is cooking, in a large sauté pan over moderate heat, warm the oil. Add the garlic and sauté, stirring occasionally, until softened, about 3 minutes. Add the tomatoes, chicken, spinach, oregano, and basil, and sauté, stirring occasionally, until the tomato has softened and chicken is warmed through, about 2 minutes.
Add the chicken-tomato mixture to the bowl with the linguine and stir to combine. Sprinkle with Parmesan cheese, season to taste with salt and pepper, and serve.
Featured in the Healthy Lunchtime Challenge. Check out all the winning recipes here.