Black Bean and Avocado Burrito with Pineapple Salsa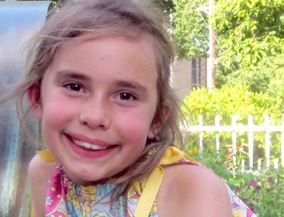 "I came up with this lunch because I like to eat burritos, and sometimes my Mom packs them for my lunch at school. I serve homemade pineapple salsa with the burrito," says Ella. She likes to have this with a berry smoothie made with Greek yogurt, as well as a side salad.—Ella Barrett, age 8, New Hampshire
Makes 4 servings
Ingredients:
For the pineapple salsa:
1 pineapple, peeled, cored, and cut into small pieces
1/2 red onion, thinly sliced
1 1/2 red, green, yellow, or orange bell peppers, stemmed and sliced
1 jalapeño, seeded and sliced
Fresh cilantro leaves from 6 sprigs
1/4 cup freshly squeezed lime juice
1/2 teaspoon packed brown sugar
1/2 teaspoon salt
For the burrito:
1 tablespoon olive oil
1 (15-ounce) can black beans, drained and rinsed
Salt
4 (10-inch) whole-wheat tortillas
1/2 cup grated or shredded cheese of your choice
1 avocado, pitted, peeled, and sliced
Fresh cilantro, chopped (optional)
Preparation:
Make the pineapple salsa:
In a food processor or blender, combine the pineapple, red onion, bell peppers, jalapeño, and cilantro. Blend just until chunky, then transfer to a bowl.
In a small bowl, whisk together the lime juice, brown sugar, and salt. Drizzle the lime-juice mixture over the salsa, and stir to combine.
Make the burrito:
In a small saucepan over moderate heat, warm the olive oil. Add the beans and cook, mashing gently with a wooden spoon, until heated through, about 3 minutes. Season to taste with salt.
Warm the tortillas in the microwave, then place them on individual plates. Evenly divide the beans among the tortillas, then top each with cheese; microwave to melt the cheese, about 20 seconds each. Divide the avocado slices among the burritos, then tightly roll each tortilla around its filling from bottom to top, overlapping one end, burrito style. Serve with the Pineapple Salsa and additional cilantro, if desired.
Featured in the Healthy Lunchtime Challenge. Check out all the winning recipes here.