Apple Alien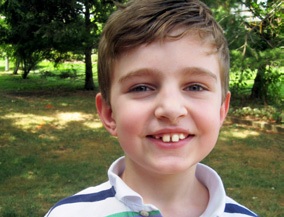 Dad Kenneth writes: "Operation Apple Alien Status Report. Mission: Make and eat an out-of-this-world lunch that is fun and nutritious:
1) Assemble Apple Alien and place it on launch pad (plate).
2) Remove Apple Alien's antennas and prepare for take-off.
3) Launch a flying object (flying disk wrap, fruit meteor, or veggie asteroid) from antenna and fly it to the mother ship (a hungry tummy):
Final Report: Mission accomplished! Kids had fun flying (eating) the Apple Alien, are reenergized with healthy food and ready for more adventures."—Aaron Beckman, age 8, Nebraska
Makes 1 serving
Ingredients:
1 (10-inch) whole-wheat wrap
¼ cup plus 1 tablespoon ranch dressing or your favorite homemade dressing
1 1/2 tablespoons cottage cheese
2 slices smoked turkey breast
1 1/2 slices Cheddar or your favorite cheese
1/4 cup fresh baby spinach
4 baby carrots, cut into slices
6 snap peas, cut in 1/4-inch-thick slices
6 grape tomatoes
4 grapes, halved
2 large strawberries, halved
1 large apple
1 teaspoon creamy peanut butter
1 cashew, sliced horizontally in half
1/4 cup low-fat vanilla yogurt
Preparation:
Special equipment: 3 long wooden skewers, 1 short plastic cup (2 1/2 inches diameter, 1 inch high)
Place the wrap on a plate and spread 1 tablespoon of the ranch dressing in the center, then add the cottage cheese, turkey, Cheddar, and spinach. Tightly roll the wrap into a cylinder, and cut into 3/4-inch-thick slices.
Thread 8 to 10 pieces of fruit and vegetables (reserving 2 carrot slices), along with the wrap slices, in the desired order on each of 3 wooden skewers, keeping the skewer base empty.
Place the base of the apple in the opening of a short plastic cup and push the filled skewers into the top part of the apple to create the alien'santennas.
Spread peanut butter on 1 side of each of the 2 reserved carrot slices and the flat side of both cashew halves. Using the peanut butter as "glue," attach the carrot slices as eyes and the cashews as a smile for the apple alien. Serve with the remaining 1/4 cup of ranch dressing and the yogurt, for dipping the fruits and veggies in.
Featured in the Healthy Lunchtime Challenge. Check out all the winning recipes here.