3-Pepper Soup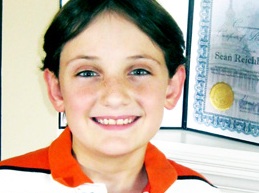 "I went to the store with my mom and saw a red, an orange, and a yellow bell pepper and had an idea to make a three-pepper soup! The secret is the three peppers and that we use three different kinds of peppers: fresh bell peppers, ground black pepper, and a little chili pepper powder," says Sean. "When I get a cold, we make this soup and I feel better." Mom Andrea notes you can use any whole-wheat pasta or soup pasta if you prefer. —Sean Reichbach, age 9, California
Makes 4 servings
Ingredients:
8 ounces vermicelli noodles, broken in half
2 tablespoons olive oil
3 Roma or plum tomatoes, diced
1 small red onion, diced
1 red bell pepper, diced
1 yellow bell pepper, diced
1 orange bell pepper, diced
1 Idaho or baking potato, peeled and diced
1 1/2 cups baby carrots, diced
8 ounces boneless, skinless chicken breast, cut into 1/2-inch pieces
1 teaspoon chili powder
1 teaspoon sea salt
1 teaspoon freshly ground black pepper
2 cups organic chicken stock or low-sodium chicken broth
Whole-wheat rolls, for serving
Preparation:
In a large soup or pasta pot, bring salted water to a boil. Add the vermicelli noodles and cook until al dente. Drain and reserve.
In the same pot, heat the olive oil over moderate heat. Add the tomatoes, red onion, bell peppers, potato, and carrots and sauté until softened and lightly browned, 5 to 7 minutes.
Add the chicken, chili powder, salt, and pepper and sauté until the chicken is cooked through, about 5 minutes.
Add the chicken stock and bring to a boil, then lower the heat and simmer for 10 minutes.
While the soup is simmering, warm the whole-wheat rolls in the oven or toaster oven. Ladle the hot soup into bowls, adding the vermicelli noodles according to people's taste.
Featured in the Healthy Lunchtime Challenge. Check out all the winning recipes here.