Yummy Corn Wraps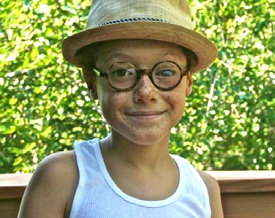 "Half of our family is extremely sensitive to sugar. We also have a lot of food allergies among us," reports Ajani's mom, Sandra. As a result, they make a lot of things from scratch, because so many processed foods have added sugar. "We like to stuff our wraps with all kinds of stuff, but one of our favorites is cheese, guacamole, black olives, and tomatoes." –Ajani Patton-Imani, age 8, Iowa
Makes 4 to 6 servings
Ingredients:
2 cups masa, plus more for shaping wraps
Salt
1 cup unsweetened soy milk, at room temperature
2 avocados, pitted and mashed
1 garlic clove, minced
Juice of 1/2 lemon
Dash cayenne pepper
2 cups grated Colby or Jack cheese
1 cup sliced olives
1 cup diced tomatoes
Preparation:
In a medium bowl, combine the masa and 1/2 teaspoon salt. Make a well in the center and pour in the soy milk and 3/4 cup water, then stir with a wooden spoon until the dough comes together. Turn the dough onto a work surface and knead for 1 minute. Cover with a damp towel or plastic wrap for 30 minutes. After the dough rests, divide it into 12 pieces and roll into Ping-Pong-ball-size balls. Cover the balls with plastic wrap as you work.
Heat a dry cast-iron skillet or griddle over moderate heat and dust a work surface with masa. Pat 1 ball of dough flat, then use a rolling pin to roll it into a 6-inch round. (You can also use a tortilla press.) Add to the hot skillet and cook for 30 to 45 seconds on each side, until tiny flecks of black appear and you begin to smell corn. Repeat with the remaining balls of dough. Stack the tortillas and wrap them in a towel to keep warm.
In a small bowl, combine the avocado, garlic, lemon juice, and cayenne. Season to taste with salt.
In each wrap, spoon guacamole, cheese, olives, and tomatoes. Fold in half, and eat over your plate!
Featured in the Healthy Lunchtime Challenge. Check out all the winning recipes here.