Vegetarian Lasagna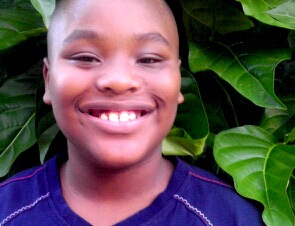 "We grew fresh greens at Gabriel's school," reports his mom, Vanessa. "We chose kale, tomatoes, and basil from the garden, and made lasagna. We served samples to 84 fourth-graders, and they loved it!" Gabriel often has this with fresh slices of mango and milk. —Gabriel Reed, age 11, Virgin Islands
Makes 8 servings
Ingredients:
3 pounds ripe tomatoes, chopped
1 (24-ounce) jar marinara sauce
1 cup shredded fresh basil
Salt and freshly ground black pepper
9 whole-wheat lasagna noodles (about half a 1-pound box)
4 bunches kale (about 3 pounds total)
1 (15-ounce) container part-skim ricotta cheese
1 pound part-skim mozzarella cheese, shredded
¼ cup finely grated imported Parmesan cheese
1 large egg
Preparation:
Preheat the oven to 325°F.
In a large saucepan over moderate heat, combine the tomatoes, marinara sauce, and basil, and bring to a simmer. Cover the pot, then transfer it to the oven to cook gently, stirring once or twice, until the tomatoes are tender, 2 to 2 ½ hours.
Carefully remove the pot from the oven. Transfer the tomato sauce to a food mill set over a large saucepan, and force the sauce through the mill to remove the skins. Discard the skins. (If you don't have a food mill, skip this step.) Season to taste with salt and pepper, and let cool. (You will have about 4 cups of sauce.)
In a large pot of boiling salted water, cook the lasagna until al dente, about 10 minutes. Drain and rinse.
While the lasagna is boiling, fill a second large pot halfway up with water and bring to a boil. Add half the kale and cook, stirring occasionally, until wilted, 3 to 4 minutes. Using a slotted spoon, remove the kale from the water, place it in a colander, and rinse with cold water until cool. Repeat with the remaining kale. Using a clean towel, squeeze excess moisture from the cooked kale then coarsely chop it.
Preheat the oven to 400°F.
In medium bowl, stir together the ricotta , 3/4 cup mozzarella, the Parmesan, and the egg. Season lightly with salt and pepper.
Lightly oil a 13-by-9-inch baking dish. Add 1 cup of the tomato sauce to the bottom, tilting to coat. Arrange 3 cooked lasagna noodles in the bottom of the pan, then top with 1 cup tomato sauce. Top with about a third of the kale then dot with about a third of the cheese mixture. Repeat with 2 more layers. Cover the lasagna tightly with foil and bake 45 minutes. Remove the foil, sprinkle the lasagna with the remaining mozzarella, and continue baking until the cheese is melted and the lasagna is bubbling, 10 to 15 minutes. Let stand for 20 minutes before serving.
Featured in the Healthy Lunchtime Challenge. Check out more winning recipes here.