Rainbow Salad with Black Beans, Mint, and Lemon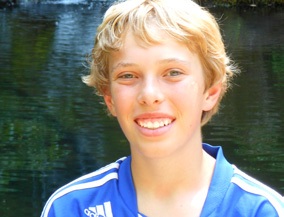 "It all started when I broke my arm and was feeling forlorn," says Aidan. "I wasn't allowed to play soccer, ride my unicycle, run, or do anything fun. My mom got me four mint plants to cheer me up. I planted them as best I could with one arm. The mint soon filled the pot, and, by the time I got my cast off, even started to flow over the rim. I started to make mint tea, but still had too much mint. So I made up Rainbow Salad for my family. It's a bright and tasty salad that is easy and fun to make because you get to use the food processor to cut the vegetables. I love salad!" Aidan enjoys this with whole-wheat crackers.-- Aidan Gould, age 12, Colorado
Makes 6 servings
Ingredients:
2 (15-ounce) cans black beans, rinsed and drained
6 carrots, grated
3 tomatoes, diced
1 yellow bell pepper, sliced
1/4 small purple cabbage, thinly sliced (about 3 1/2 cups total)
1 cup fresh mint, finely chopped
Zest and juice of 3 lemons
1/4 cup olive oil
Salt
Preparation:
In a large bowl, combine the beans, carrots, tomatoes, pepper, cabbage, and mint. Toss to combine.
In a small bowl, whisk together the lemon zest, lemon juice, and olive oil. Season to taste with salt.
Drizzle the dressing over the salad and toss to coat the vegetables in dressing.
Featured in the Healthy Lunchtime Challenge. Check out more of the winning recipes here.