Pesto Pasta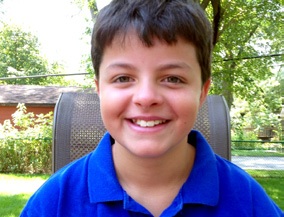 "My mom gave me a recipe challenge to come up with a healthy pasta dish that my little brother with food allergies could eat," says Jonah. "This recipe is healthy and inexpensive, especially in the summer, when you could grow fresh basil in your yard or in a potting pot on the back porch." Jonah likes to serve this with a strawberry-banana smoothie made with coconut milk and orange juice.—Jonah Schaik, age 12, Illinois
Makes 6 servings
Ingredients:
For the pesto:
4 cups loosely packed fresh basil
5 ounces frozen chopped spinach, defrosted and drained
5 garlic cloves, crushed
2 tablespoons olive oil
Kosher salt
Freshly ground black pepper
For the pasta:
1 pound whole-wheatrotini
2 tablespoons olive oil
1 pound ground turkey breast
½ teaspoon salt
1/2 teaspoon freshly ground black pepper
2 (14-ounce) cans low-fat, low-sodium chicken broth
½ onion, cut into small dice
½ red bell pepper, cut into small dice
3 garlic cloves, minced
¼ cup fresh basil leaves, chopped
¼ teaspoon dried red pepper flakes (optional)
For garnish:
Freshly grated Parmesan cheese
4 cups fresh sliced strawberries
4 ripe bananas
ice cube
Make the pesto:
In a blender or food processor, combine the basil, spinach, garlic, and olive oil. Blend until smooth. Season to taste with salt and pepper.
Make the pasta:
In a large pot of boiling salted water, cook the pasta until al dente, 8 to 10 minutes. Reserve 1 cup of the pasta cooking water, then drain the pasta and return it to the pot.
While the pasta is boiling, cook the turkey: In a large, deep skillet over moderate heat, warm the olive oil. Add the ground turkey and cook, stirring to break up the meat, until just starting to brown, about 10 minutes. Season with salt and pepper, then transfer the meat to a plate and reserve.
In the same large skillet over low heat, warm 3 tablespoons of the chicken broth. Add the onions and bell pepper, and sauté, stirring occasionally, until softened, 8 to 10 minutes. Add the garlic and sauté, stirring occasionally, 5 minutes. Add the basil and the dried red pepper, and return the cooked turkey to the pan. Add the remaining chicken broth, and simmer over low heat for 10 minutes.
Add the pesto to the pasta. Stir well to combine, adding the reserved pasta cooking liquid as necessary to loosen the pesto. Add the turkey sauce to the pasta and cook over low heat, stirring to combine, until heated through. Serve hot, with freshly grated Parmesan on the side.
Featured in the Healthy Lunchtime Challenge. Check out more winning recipes here.