Mexican Delight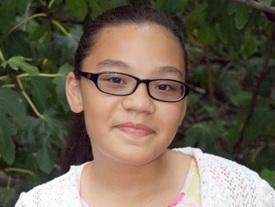 "I came up with my recipe by watching my grandma make tortillas," says Iliana. "One day I came up with the Mexican Delight. To go along with my main course, I would serve a healthy serving of brown rice and a delicious fruit smoothie." —Iliana Gonzales-Evans, age 11, District of Columbia
Makes 4 servings
Ingredients:
For the filling:
1 pound turkey bacon
1/2 head green leaf lettuce, chopped
1 green bell pepper, diced
1 tomato, diced
1/2 onion, diced
For the whole-wheat tortillas:
2 cups of whole-wheat flour
1 tablespoon baking powder
1 teaspoon salt
1/2 cup vegetable oil, plus more for cooking
For serving:
3 cups cooked brown rice
Make the filling:
Working in batches, cook the turkey bacon in a large, heavy skillet over moderate heat, flipping occasionally, until brown and crisp, 6 to 8 minutes. Transfer to a paper-towel-lined plate to drain, then transfer to a clean plate.
Arrange the pepper, tomato, and onion in separate bowls.
Make the tortillas:
In a large bowl, stir together the flour, baking powder, and salt. Add ½ cup oil and 2/3 cup water, and stir to combine. On a lightly floured work surface, knead the dough until smooth and elastic, about 4 minutes. Dust your hands with flour if the dough is sticky. Divide the dough into 8 equal portions, roll each portion into a ball, and cover with plastic wrap.
On a lightly floured work surface, use a rolling pin to roll each ball of dough into an 8- to 10-inch round.
Lightly oil a large, heavy skillet and place over moderate heat. Carefully place one tortilla in the skillet and cook until it bubbles and puffs, about 45 seconds. Flip the tortilla and cook the other side until it bubbles and puffs. Carefully transfer the tortilla to a plate and cover with foil to keep warm. Continue cooking the remaining tortillas.
Set up a buffet with the vegetables, bacon, and tortillas, and let everyone make their own tacos. Serve brown rice on the side.
Featured in the Healthy Lunchtime Challenge. Check out more of the winning recipes here.