Backyard Garden Salsa Tortillas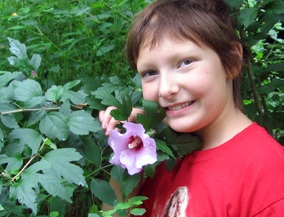 Laura took a cooking class in the third grade, which inspired her desire to pick "salsa ingredients" from the garden, reports her mother, Catherine. Because Laura's brother likes soft tortillas, Laura incorporated chicken or tofu tortillas into the meal along with serving beans and fruit, like kiwi. –Laura Printon, age 9, Vermont
Makes 6 servings
Ingredients:
For the Salsa:
4 beefsteak tomatoes
2 Roma tomatoes
2 plum tomatoes
1 green bell pepper
1 yellow bell pepper
1 medium or large Spanish onion
1/2 cup chopped fresh cilantro
2 tablespoons lemon or lime juice
For the Tortillas:
6 whole-wheat flour tortillas
3 (4-ounce) skinless boneless cooked chicken breasts or tofu, cut into bite-size pieces
1 cup canned black beans, drained and rinsed
1 cup shredded mozzarella and Cheddar cheese
2 cups of shredded romaine lettuce
1 Granny Smith apple, diced
1 avocado, peeled, pitted, and sliced
Preparation:
For the Salsa:
In a food processor or blender, combine all the tomatoes, bell peppers, onion, cilantro, and lemon or lime juice. Blend until the ingredients and blend until they are well combined but the salsa is still chunky.
For the Tortillas:
Preheat the oven to 350°F. Top each tortilla with equal amounts of the chicken, beans, and cheese, and bake until the cheese is melted and the chicken is warm, 10 to 12 minutes. Just before serving, add the lettuce, apple, and avocado, and serve with the salsa.
Featured in the Healthy Lunchtime Challenge. Check out more winning recipes here.