Apple Oat Balls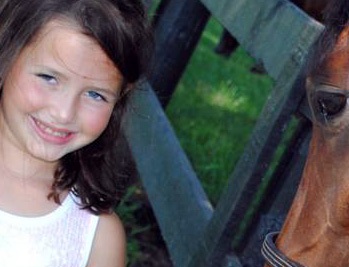 "We were inspired to make these by one of our equestrian 'neigh'bors," says Avery's mom, Carrie. "My daughter asked her what we could bring her horses for a reward after competing in the horse show, and she told us to ball up some raw oats, apples, and carrots with a dash of brown sugar, and the horses would be thrilled! We rushed home, and our Apple Oat Balls were born when my 2-year-old tried one and exclaimed 'Yum!'"
The McNew family loves to pair these with yogurt. Peanut butter was added to the recipe to make the balls hold together tightly, but you can make it without it. --Avery McNew, age 8, Michigan
Makes about 30 (1-inch) balls
Ingredients:
6 cups old-fashioned rolled oats
1 carrot, peeled and shredded, or ½ cup shredded carrots (optional)
½ cup pecans, toasted and chopped (optional)
2 tablespoons sugar
2 tablespoons packed light or dark brown sugar
¼ teaspoon ground cinnamon
2 organic apples, peeled
Juice of 1 lemon
½ to ¾ cup creamy peanut butter
3 tablespoons raisins
2 tablespoons dried cranberries
Preparation:
In a large bowl, stir together the oats, carrot, pecans, sugar, brown sugar, and cinnamon.
Cut the apples in half and remove the cores. Chop the apples into very small pieces and place in a small bowl. Add the lemon juice and toss to coat the apples. Add the apples to the oats and stir to combine.
Add ¾ cup water and stir to wet the ingredients. Add ½ cup peanut butter and stir to thoroughly combine.
Using damp hands, form the mixture into 1-inch balls. If the mixture isn't sticky enough to form balls, add additional peanut butter. Press 2 raisins and 1 dried cranberry into each ball to create a face. Store Apple Oat Balls in an airtight container in the refrigerator.
Featured in the Healthy Lunchtime Challenge. Check out more winning recipes here.