Yummy Summer Soup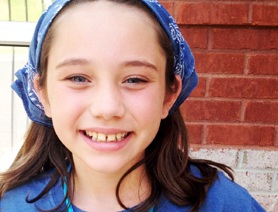 "I came up with my recipe because tomatoes and yellow bell peppers are in season and they are really good for you. And Alabama's tomatoes are both delicious and nutritious," says Falcon. "I like a toasted turkey and cheese sandwich with my soup to include all the Choosemyplate food groups." -- Falcon Wiles, age 9, Alabama
Makes 8 to 10 servings
Ingredients:
3 pounds tomatoes, halved
2 yellow bell peppers, seeded, stemmed, and quartered
2 garlic cloves
2 tablespoons olive oil
Salt
Pepper
8 fresh basil leaves
6 cups chicken stock or low-sodium chicken broth
1/2 cup light whipping cream or 1 percent milk
Parmesan cheese, shaved or grated
Preparation:
Preheat the oven to 450°F.
Place the tomatoes, peppers, and garlic on 2 large baking sheets or roasting pans, drizzle with olive oil, and sprinkle with a pinch of salt and pepper. Roast until the peppers are slightly dark and the tomatoes are bubbling and slightly brown, about 40 minutes. Let the vegetables cool.
Once the veggies are cool, put them in a blender, along with the basil, and blend until coarsely chopped.
Put the chopped veggies in a large pot and add the chicken stock. Bring to a boil, then lower the heat to a simmer and slowly add the cream or milk. Continue simmering until the soup is hot, about 15 minutes. Carefully spoon the soup into bowls and top with shaved or grated Parmesan cheese.
Featured in the Healthy Lunchtime Challenge. Check out all the winning recipes here