First Lady Michelle Obama Leads Presidential Delegation to the Olympics
Ed note: This was originally published on whitehouse.gov
First Lady Michelle Obama was in the stands on Saturday as Team USA scored its first gold medal in the 2012 Olympic Games in London. In her unofficial capacity as First Fan, Mrs. Obama had the chance to cheer on swimmer Ryan Lochte as he won the men's 400 meter individual medley.
That afternoon, the First Lady took in the tennis competition from Wimbledon, watching Serena Williams knock off Jelena Jankovic 6-3, 6-1 from a seat beside Oracene Price, Serena's mom.
On Sunday, the First Lady gave each member of Team USA – up to and including the coaches – a hug after they moved past France in the first round of the basketball competition.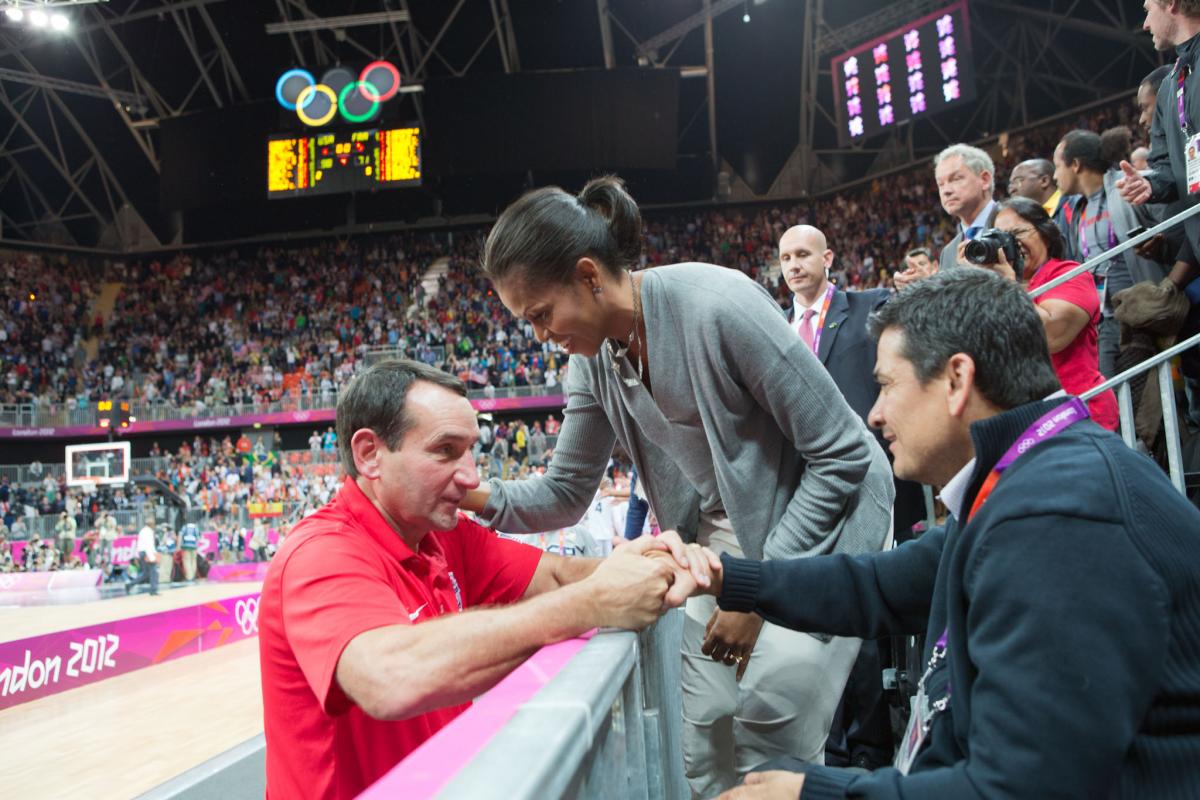 USA Basketball coach Krzyzewski greets Mike First Lady Michelle Obama and former Paralympian Gabriel Diaz de Leon following the team's 98-71 opening round victory over France at Olympic Park during the 2012 Olympic Games in London, England, July 29, 2012. (Official White House Photo by Sonya N. Hebert)
Mrs. Obama and the U.S. delegation, which included Olympians Dominique Dawes, Brandi Chastain, Grant Hill and Summer Sanders, and Paralympian Gabriel Diaz de Leon, also attended the Opening Ceremonies on Friday night.
Before the Olympic Games began, the First Lady hosted Let's Move! London at the U.S. ambassador's residence in London, where 2,000 American and British children showed off their skills at at sports stations and got a chance to meet athletes, including David Beckham.
To see more of the action, check out out this slideshow from the First Lady's Olympic trip.