Kiana School in Alaska Gets a Salad Bar
Have you ever visited the Arctic Circle? Not too many people have! This region is at the northernmost tip of Earth. For Alaskans who live here, eating healthy presents some unique challenges. The cold weather and lack of sunlight limit the fruits and vegetables grown here, and not much produce makes its way up to this area.
So when a school in a small Inuit village called Kiana wanted to put a salad bar in the cafeteria, everyone got involved to overcome those challenges and make it happen. Fruit and vegetables are flown in from Anchorage to the coastal town Kotzebue and then take off again in a small aircraft to reach Kiana.
Kiana School Principal Scott Warren says it's worth all the effort. Through Let's Move Salad Bars to Schools, the Kiana's salad bar program has been an overwhelming success, not only with the kids but also with teachers and staff. Today, 126 students in Kiana School enjoy fresh fruits and vegetables, including pears, apples, oranges, carrots, lettuce every day, thanks to the salad bar in their cafeteria, which was introduced in January 2012.
Kiana school made a salad bar video to share their story with anyone interested in seeing how to bring a salad bar to school. Diane Peck of Alaska's health department says that "Kiana's salad bar video will become a part of our training video to address specific Alaska concerns and encourage schools to give salad bars a try." Their story shows how even in challenging conditions like the Arctic Circle, salad bars are feasible.
Watch Kiana School's salad bar story.
For other schools that want a salad bar, Alaska's State Department of Health and Social Services operates a program called Fruit and Vegetable Bars in Alaska Schools, Diane Peck trains school food service and school staff to apply for a salad bar and successfully install it in cafeterias to serve kids salads at lunch. "We continually hear that salad bars can't be done in Alaska and that's just not true. We want to show that Alaska schools are implementing salad bars with great success!"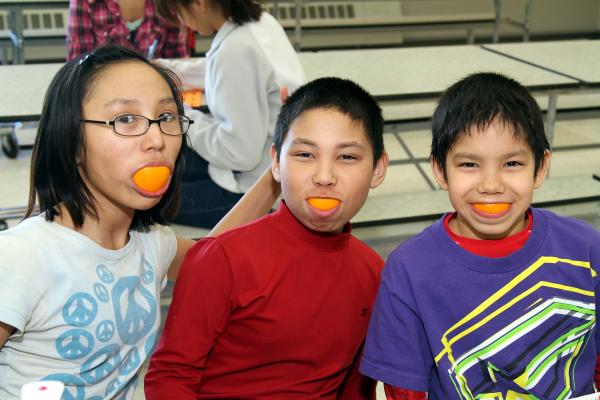 Students at the Kiana School above the Arctic Circle enjoy fresh oranges from the salad bar.
Are you a student, teacher, or parent who would like to help your school get a salad bar? Visit Let's Move Salad Bars to Schools for information. Let's Move Salad bars to Schools is a comprehensive public health effort to mobilize and engage stakeholders at the local, state, and national level to significantly increase the number of salad bars in schools across the country until every child has the choice of healthy fruits and vegetables every day at school. Any school participating in the National School Lunch Program is eligible to apply. Currently more than 1,400 schools now have salad bars for their students.
This story was prepared by Diane Harris, Ph.D., Division of Nutrition, Physical Activity, and Obesity at the Centers for Disease Control and Prevention (CDC)