June is Great Outdoors Month!
With school out and summer just around the corner, there's no better time to take your family outdoors for some active adventures! June is Great Outdoors Month - a time to celebrate our country's magnificent landscapes, waterways and historical sites. From the Grand Canyon to Central Park, and from the Great Lakes to the California coast, America is full of spectacular sites that are open for all people to explore and enjoy. Of course, you don't have to visit a far-off destination to get moving outside. There are plenty of ways for your family to be active and take advantage of the outdoors in your own community.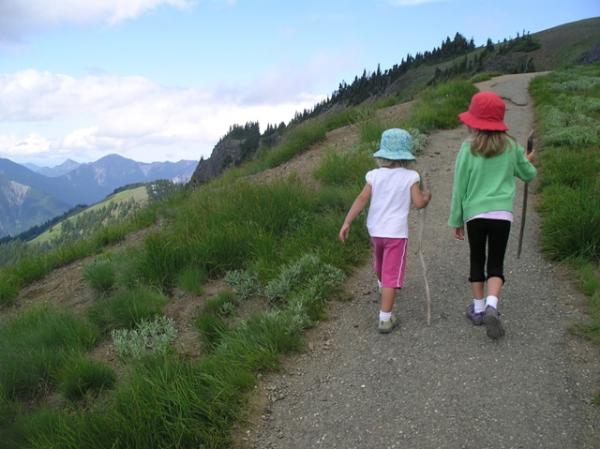 Celebrate National Park Week with your family, April 21-29, and get moving outside! Find a park near you and take a hike, climb a tree, pitch a tent -- just make sure you get moving. (Photo by Christine Korkalo)
Follow the tips below to participate in Great Outdoors Month and start your summer on a fun (and healthy!) note:
You don't need much more than a pair of sturdy shoes to explore the parks and trails in your community. Challenge your family to get outside and walk, hike, or jog for 60 minutes. Add in a scavenger hunt, relay race, or other game, to make a long walk into an interactive journey. Click here to find a state park near you.
Cycling boots cardiovascular fitness and can be enjoyed by the entire family. Rent or use your own bicycle to explore your city in a whole new way! Click here find a bike shop or instructor in your area, visit.
Make a splash! Whether your nearest body of water is salty or fresh, you can get a great workout by trying a new sport like paddling (canoe or kayak), surfing, or swimming. Be sure to follow these water safety guidelines when your family is near water.
For any of these activities, make sure to pack water, healthy snacks, sunscreen, and a healthy dose of curiosity!
This week is National Boating and Fishing Week! Fishing is a lifelong sport that teaches kids and fosters exploration. Click here for resources on family fishing.
On June 23rd, spend a night under the stars as part of the Great American Backyard Campout.
From June 22nd through the Summer Olympics, USA BMX and USA Cycling will offer a free kids' BMX lesson and racing opportunity at more than 350 tracks across the country. Click here to learn more.
Ali Kelley is Deputy Associate Director for Let's Move Outside!