Hang Out with Gail Simmons and White House Chef Cris Comerford
Just over two-years ago, the First Lady launched Let's Move!, a comprehensive initiative dedicated to solving the challenge of childhood obesity within a generation, so that children born today will grow up healthier and able to pursue their dreams. Parents play a key role in both making healthy choices for children now and teaching children to make healthy choices for themselves. But in today's busy world, this isn't always easy. So Let's Move! offers parents the tools, support and information they need to make healthier choices while helping develop healthy eating habits in children that will last a lifetime.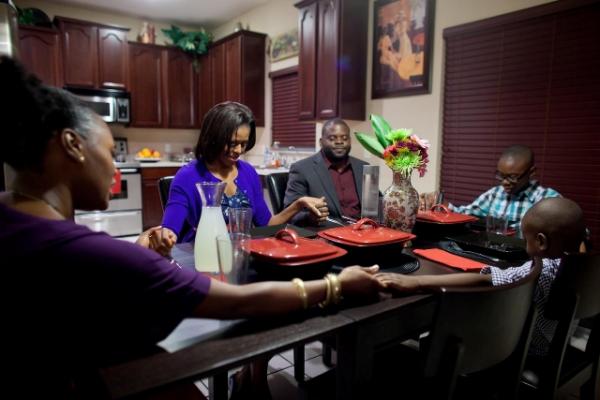 First Lady Michelle Obama visits the home of Kern and Patrice Halls, and children, Keian Halls, age 12, and Kamryn Halls, age 7, in Orlando, Florida, Feb. 10, 2012. The First Lady has dinner with the family to discuss changes families can make to become healthier. Change Begins at Home is part of the First Lady's tour celebrating the second anniversary of the "Let's Move!" initiative. (Official White House Photo by Chuck Kennedy)
That's why we're excited to announce that on Friday, April 13th at 1:00 p.m. EST, White House Executive Chef Cris Comerford and culinary expert, food writer and TV personality Gail Simmons are hosting a Google+ hangout live from the White House. We're inviting Americans across the country to join the conversation and ask our experts about making healthy choices while juggling multiple schedules, and making smart choices whether you are cooking family meals, balancing everyone's schedule or eating away from home. We hope you'll hangout with us on Friday, April 13th at 1:00 p.m. EST.
What are your questions for Cris and Gail? Here's how you can get involved right now:
Then, be sure to watch the Hangout live at 1:00 p.m. on Friday, April 13th on WhiteHouse.gov/live, YouTube.com/whitehouse or the White House Google+ page. For upcoming White House Hangouts and more chances to engage, follow the White House on Google+.
We hope you can join us!