Champions of Change Get Their Communities Moving
Today, the White House honored twelve Americans who are who are living the goals of Let's Move! everyday as Champions of Change. Each of the invitees is an example of what First Lady Michelle Obama called the founding purpose of Let's Move! – community leaders, teachers and health professsionals who have found creative ways to keep our children active and healthy and get their communities moving!
During the event, the Champions each talked about the program they developed or introduced to their community and together they spoke about how small changes can yield tremendous wins in the lives of their students, area children and families.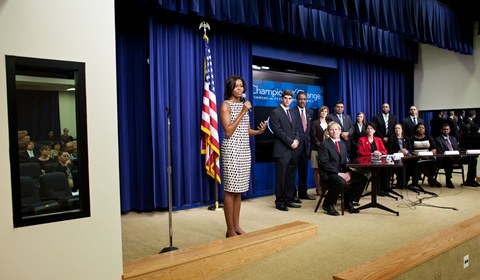 First Lady Michelle Obama delivers remarks at a "Let's Move!" Champions of Change event in the Eisenhower Executive Office Building South Court Auditorium, March 22, 2012. Participants included Jon Carson, Director of the Office of Public Engagement and Sam Kass, Senior Policy Advisor for Healthy Food Initiatives. (Official White House Photo by Sonya N. Hebert)
The honorees:
Andre Ashley
Andre Ashley, Sports Management Supervisor for Portland Parks & Recreation, has been employed with the agency for 18 years and has directied their sports programs for more than a decade.
Hector Avila
Hector Avila is the Program Coordinator for the Houston Parks and Recreation Department's (HPARD) "Soccer for Success" program, an inner city soccer program that focuses on life skills development through sports.
Brian "Bear" Bosto
Brian Bosto serves as the Brookston Center Manager for the Fond du Lac Band of Lake Superior Chippewa, where his ability to connect traditional Ojibwe culture with modern society, is making a healthy difference among American Indian youth in his region.
Sarah Bucher
Sarah Bucher, the Director of Healthy Living at the YMCA and JCC of Greater Toledo, works to improve the nutrition and physical activity of employees and participants in companies, child care centers and YMCA programs.
Robert Castaneda
Robert Castaneda, Executive Director, and wife Amy co-founded Beyond the Ball, a sports-based youth and community development organization, which uses the power of sports to change lives for youth and families in Chicago.
Cindy Coughlin
Cindy Coughlin is a physical education and health teacher at Alice B. Beal Elementary School in Springfield, Massachusetts, where she teaches children the importance of exercise and healthy eating habits.
Cameron Hajialiakbar
Cameron Hajialiakbar is the founder and president of the Coaching Corps chapter at the University of California, Los Angeles (UCLA), training and placing volunteer coaches in after-school programs serving girls and boys in low-income communities.
Dr. Richard Kozoll
Richard Kozoll, MD, MPH has practiced family and preventive medicine in the small community of Cuba, New Mexico since 1975, and encourages increased outdoor activity through infrastructure changes within the community.
Kenny Owens
Kenny Owens is Program Director for DC SCORES and is responsible for elementary and middle school soccer leagues as well as the training of DC SCORES' soccer coaches.
Melissa Stockwell
Melissa Stockwell, an Iraq War veteran, above the knee amputee and World Champion Paratriathlete, co-founded the Dare2tri Paratriathlon Club with two friends, Keri and Dan, to get athletes with disabilities to the starting line of a triathlon.
Dr. Carolyn Ward, Ph.D.
Carolyn Ward, Ph.D. serves as the CEO of the Blue Ridge Parkway Foundation and collaborates with the National Park Service, State Parks, local community groups, the Cherokee Nation and numerous non-profit organizations united around the goal of getting more kids moving in the great outdoors.
Shawanda Weems
Shawanda Weems, an English teacher at PS/MS 15 in the Bronx, New York, collaborated with the Youth and Community Division of New York Road Runners, to establish youth-running-for fitness programs for more than 350 children in her school.
Chris West
Chris West, a physical education instructor at Bauder Elementary School in Fort Collins Colorado, has been instrumental in changing what students and teachers think about physical education -- developing reactive and innovative methods to integrate science and literacy into physical education classes.
Read more about today's honorees, their amazing stories and the programs they have implemented to keep their communities moving.