Michelle Obama Judges "Top Chef"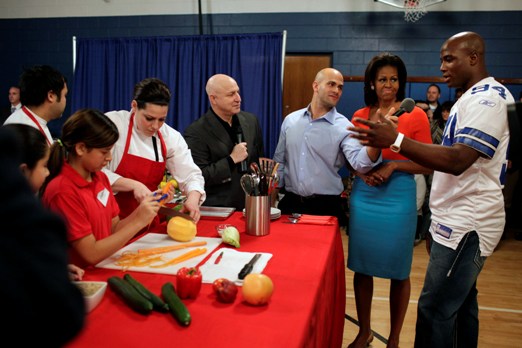 First Lady Michelle Obama, with Sam Kass assistant White House Chef and Food Initiative Coordinator, center, and Top Chef Head Judge Tom Colicchio, left, talk with Dallas Cowboys linebacker Demarcus Ware at the "Schools and Chefs Working Together" event at the "Schools and Chefs Working Together" event at the Kleberg Rylie Recreation Center in Dallas, Texas, Feb. 10, 2012. (Official White House Photo by Chuck Kennedy)
First Lady Michelle Obama was joined by some famous faces on the second day of the Let's Move birthday tour. A group of former "Top Chef" winners came out to a Dallas recreation center for a new kind of Quick Fire challenge: make a quick, kid-friendly lunch inspired by the new school lunch standards unveiled earlier this month.
The chefs paired off into three groups -- each assisted by a sous chef from a Dallas elementary school and a Dallas Cowboy -- and after thirty minutes they presented their work to a trio of tough judges: Top Chef judge Tom Colicchio, Let's Move's Senior Policy Advisor Sam Kass and First Lady Michelle Obama.
The Red Team, with chefs Paul Qui and Grayson Schmitz, assisted by DeMarcus Ware, prepared a kid-friendly combo of whole wheat turkey tacos with a pureed melon juice. The White Team partnered chefs Spike Mendelsohn and Jennifer Carrol with Cowboy Miles Austin, who whipped up a classic combo of pork chops, homemade applesauce and roasted sweet potatoes. Blue Team chefs Fabio Viviano and Richard Blaise had two Cowboys on their side, as Felix Jones and DeMarco Murray helped them put together a colorful farro salad that featured feta, tomato and carrots simmered in fresh carrot juice. (Stay tuned, because the chefs have promised to share the recipes with Let's Move!)
After careful consideration, the judges announced a Top Chef first: all three teams tied. The reason, Mrs Obama explained to the crowd, is that when you pair great chefs with schools, "everybody wins."
The First Lady then announced an expansion of the Chefs Move to Schools initiative, which helps connect chefs with schools in their community to educate children about healthy food choices through cooking lessons, planting gardens and other activities. Approximately 3,400 chefs and 3,350 schools have signed up for Chefs Move to Schools.
Mrs. Obama also unveiled the new Chefs Move to Schools website, www.chefsmovetoschools.org, a one-stop shop for chefs and schools, where they can sign up for the program; access training, recipes and resources; and learn how chefs and schools across the country are partnering to create a healthier school environment.
The next stop on the Let's Move tour is Miami, where the First Lady will participate in a Town Hall conversation sponsored by WebMD.
Learn more about the Let's Move! birthday tour:
Michelle Obama: If You Are Doing Great Work, Tell Me About It
Watch: Michelle Obama does the "Platypus Walk"
On the Road with Let's Move
Watch: Behind the Scenes on the Let's Move Tour
Two Years of Healthy Changes for Our Nation's Kids