Partnerships Help Thousands of Youth Explore Their Parks
This year, more than 26,000 young people and their families experienced the joys of outdoor activity as part of The North Face's Explore Your Parks (EYP) program. Founded in 2010, the EYP program provides opportunities for active adventures and outdoor education in state parks by hosting free events, creating and distributing regional activity guides, and giving away free day passes that can be used at more than 6,000 parks across the country.
The 2011 EYP campaign concluded with a bang on October 21, as 200 students from three schools ventured across the San Francisco Bay to Angel Island State Park. This was more than an average field trip for these students.The North Face partnered with Leave No Trace, California State Parks, American Hiking Society, and local partners to provide the students with the transportation, programming, and supplies need for an adventurous, active day in one of California's most scenic parks.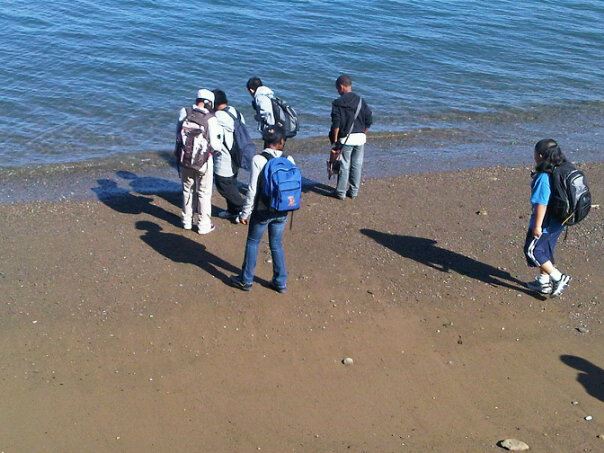 Students scan the shoreline for critters at San Francisco's Angel Island State Park in San Francisco.
The trip began with a windy ferry ride from the San Francisco to Angel Island, the Bay's largest island, and also a National Historic Landmark. Once on shore, students hiked up to one of the high points of the island, where they marveled at new vistas of the San Francisco Bay. Along the way, the group spotted several types of native wildlife, including a large herd of deer!
Angel Island has a long history.Over 3000 years ago, the island was a prized fishing and hunting site for the Miwok Indians. From 1910 to 1940, the island processed hundreds of thousands of immigrants, primarily from China. During World War II, the island housed Japanese and German POWs and also served as a point of reception for American soldiers returning from the Pacific. Students learned about this history and viewed the collection of traditional Chinese artwork and poetry before participating in a series of activities that focused on outdoor skills and stewardship. After a morning full of exploration, the students hiked back to Ayala Cove and enjoyed a picnic before taking the ferry back to the mainland.
Since last May, EYP events have taken place in six other major cities: Denver, New York, Portland, Boston, St. Paul, and Washington, DC. At each event, hundreds of local youth and families developed a new appreciation for outdoor activity, as they biked, climbed, and paddled their way around state parks. Over the past year, the EYP program has leveraged $90,000 to these parks to help continue developing new programs to encourage young people and their families to participate in the outdoors.
To learn more about the EYP program, visit: www.exploreyourparks.com.
To create your own adventure in a state park near you, visit: www.americasstateparks.org.