New Commitments to Aid the Fight Against Childhood Obesity Announced at Summit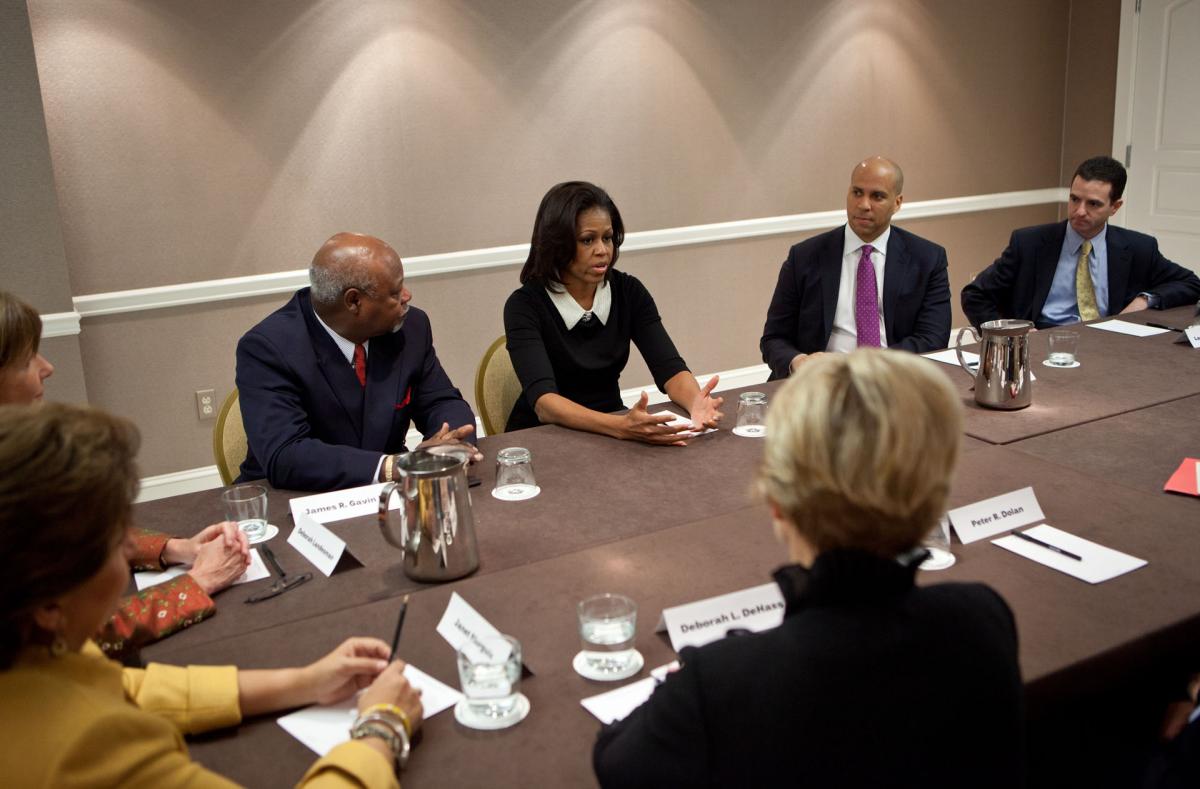 First Lady Michelle Obama meets with members of the board of Partnership for a Healthier America, an organization working to end childhood obesity, at the Omni Hotel in Washington, D.C., Nov. 30, 2011. Mrs. Obama later delivered the keynote address at the PHA's inaugural Building a Healthier Future Summit. (Official White House Photo by Lawrence Jackson)
The Partnership for a Healthier America (PHA), which works with the private sector and its honorary chairwoman First Lady Michelle Obama to solve the nation's obesity crisis, hosted its first national summit this week on November 29 and 30, 2011. Roughly 800 business leaders, community leaders, academic experts, government officials, parents and others joined together at the Omni Shoreham Hotel for the Building a Healthier Future Summit to share their experiences, form partnerships and announce substantive commitments to aid the fight against childhood obesity.
The two honorary vice chairs of PHA, former U.S. Senate Majority Leader Bill Frist and Mayor Cory Booker, laid out the challenges the nation faces as a result of the impact of childhood obesity on the economic, the health care system and our military readiness. But the conference was not about reciting the problems. It was about taking action. Senator Frist told of the enormous changes that are taking place in the market place with companies that are selling good-for-you foods showing higher profits and enhanced competitiveness, which you can read more about in a Politico piece penned by Senator Frist and Mayor Booker. Mayor Booker described how his city of Newark and Let's Move! Cities and Towns all over the country are finding ways to encourage healthy eating and sponsor physical activity.
The conference was organized around four tracks: Schools, Early Childcare, Physical Activity and Access to Healthy, Affordable Food. Breakout sessions were rich with conversation and explored how to create healthier environments in schools and childcare centers, as well as how to encourage shoppers to buy healthier and locally-grown foods. They also explored private sector partnerships that would have the greatest potential to generate movement and play amongst our nation's youth.
Throughout the conference there were announcements of commitments that companies and agencies and philanthropic groups were making in partnership with PHA to move the agenda forward. They are:
Hyatt Hotels—With its commitment to PHA, Hyatt Hotels Corporation is enhancing the nutritional profile of all its menus – from pool-side dining to catering to restaurants – to help make the healthy choice the easy choice for the 24 million of guests it serves annually.
Kaiser Permanente Hospitals—Kaiser Permanente Hospitals' new policies and procedures are aimed at increasing the number of children who are breastfed, but all with an eye toward knowing that breastfeeding is not a viable alternative for all mothers and babies and will continue the high level of care their patients have come to expect, regardless of their choice.
The Fresh Grocer—For the 23 million people living without access to healthy, affordable foods, all the reasons in the world to eat healthy are practically moot. The announcement from The Fresh Grocer builds on the announcement made with the First Lady in July of this year with five additional stores in the mid- Atlantic region.
YMCA of the USA—By establishing minimums for physical activity, maximums for screen time, and keeping food and beverages healthy, the YMCA of the USA is making the healthy choice the easy choice for the hundreds of thousands of parents who entrust the Y to care for their kids.
The Links, Incorporated—The Links, Incorporated and PHA share a common goal of combating childhood obesity and eliminating this epidemic within a generation. The Links, and their 12,000 members, will assist PHA with monitoring commitments, including site visits and reporting.
New Horizon Academy—New Horizon Academy's commitment provides a healthy setting for the 7,500 children it cares for every day, and will make a meaningful and measurable impact on the childhood obesity epidemic by helping teach our children healthy habits from day one.
On Tuesday night, the conference attendees were treated to a special meal cooked by master chefs from around the United States, including James Beard Award-winners and nominees Michel Nischan, Anne Quatrano, Floyd Cardoz and Koren Grieveson. The meal was special because the chefs had been challenged to prepare a 3-course meal for $4.50 per person (which is the average amount Americans spend on the dinner meal). Recipes are available at www.ahealthieramerica.org/recipes.
Following dinner, four more of the country's top chefs teamed up to take on the Great American Family Dinner Challenge. Emceed by White House Assistant Chef Sam Kass, the Challenge paired James Beard Award-winners Tom Colicchio and Maria Hines against Ming Tsai and Holly Smith to create a healthy meal on a SNAP budget in 30 minutes. In front of a live audience of Summit attendees! The kitchens the chefs used were equipped with only the bare essentials—a stove, a microwave, a blender and a toaster over. The judges were two families and their kids, because we all know that while cooking healthy is one thing, getting your kids to eat it is entirely another. When the votes were tallied, chefs Colicchio and Hines were declared the winners!
The major highlight of the conference came on the second day. First Lady Michelle Obama joined the summit crowd to deliver a call to action on physical activity. Saying, 'We have a crisis of inactivity," she laid out how important it is for adults to inspire children to play and be active. She called on everyone to do what she has been doing ... to become role models for children by being active and encouraging opportunities in schools, afterschool programs, child care, churches, in communities and on the streets for kids to have fun and to move their bodies. Her call to action was an inspiration to the attendees at the summit and reinforced the work that everyone in the room is doing to end this crisis before its consequences become insurmountable.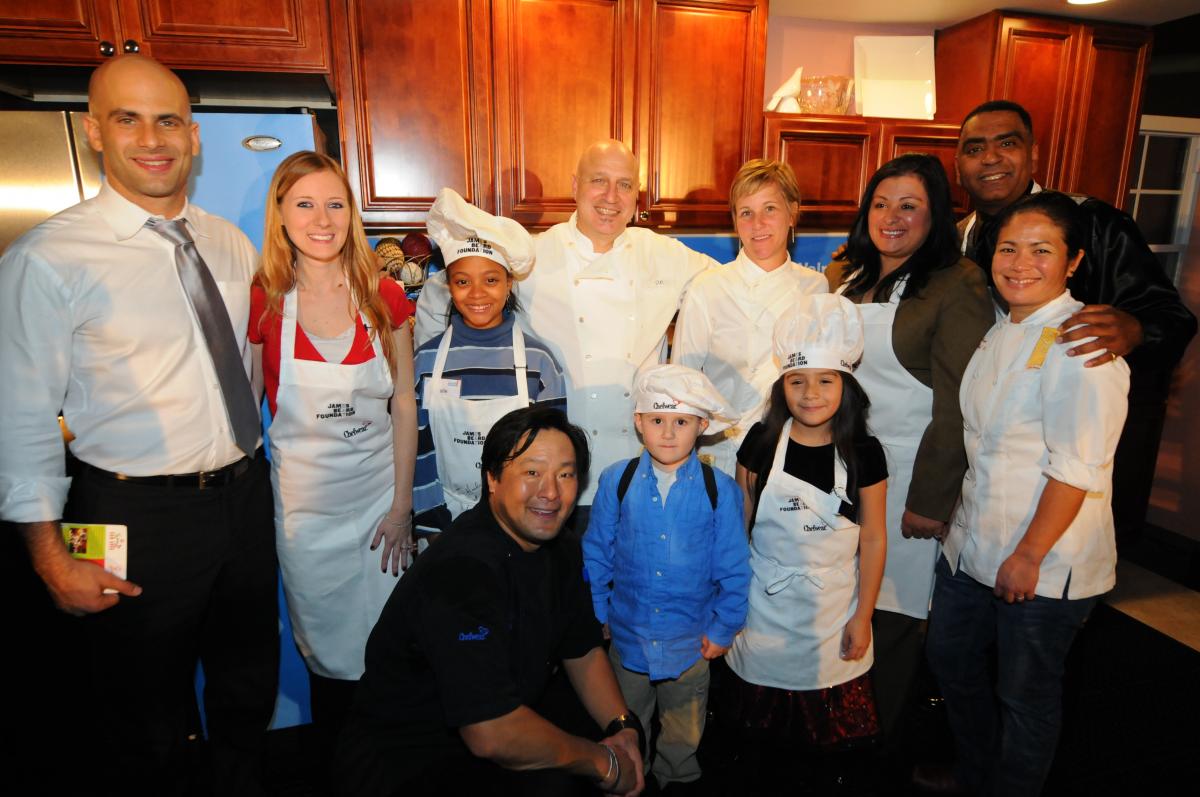 Back row, L to R - Sam Kass, Kim Mrkva (judge), Haile Thomas (host of Kids Can Cook!), Tom Colicchio, Holly Smith, Laura Castillo (judge), Antonio Ferro (judge), Maria Hines. Front row, L to R: Ming Tsai, Austin Jackson (judge), Jeshua Ferro (judge).