Montana Celebrates American Indian Heritage Day
This year Montana celebrated American Indian Heritage Day on September 23rd by focusing on physical activity through traditional games and a healthy diet that incorporates traditional foods. Montana Superintendent of Public Instruction Denise Juneau is a member of the Mandan and Hidatsa Tribes and the first American Indian woman elected to a statewide position. Superintendent Juneau joined the Browning School District and the Blackfeet Nation for a day, celebrating healthy eating and exercise in support of the Let's Move! in Indian Country initiative.
Superintendent Denise Juneau playing Lacrosse. Photo Credit: Claire Worth
Five hundred students attending Browning High School listened to culturally relevant health presentations from Chief Earl Older Person, Blackfeet Nation Chairman TJ Show, Browning Superintendent Mary Johnson, and Sharon Wagner, an educator for Indian Health Service. Local organizations set up health and wellness booths, providing information on diabetes prevention and a healthy diet. Seven hundred and fifty students and community members enjoyed a healthy traditional meal of buffalo, banick bread, berry soup and vegetables prepared by the Food Service Program at Browning Public Schools. Later, during the activity stations students listened to Mike Tatsey illustrated the importance of traditional food for the Blackfeet Nation.
The youth played four traditional games: Doubleball, Shinny Ball, Hoop and Arrow Games and Lacrosse. All of these games can be found in Montana's Indian Education for All health enhancement curriculum. The Blackfeet Nation welcomed Alex Alviar and the 10Sticks Lacrosse Club from the Salish Kootenai College on the Flathead Reservation to teach the modern game of Lacrosse. High School Cheerleaders taught their peers Beyonce's "Move Your Body" dance and were joined by traditional dancers who incorporated Chicken and Appa Dance steps.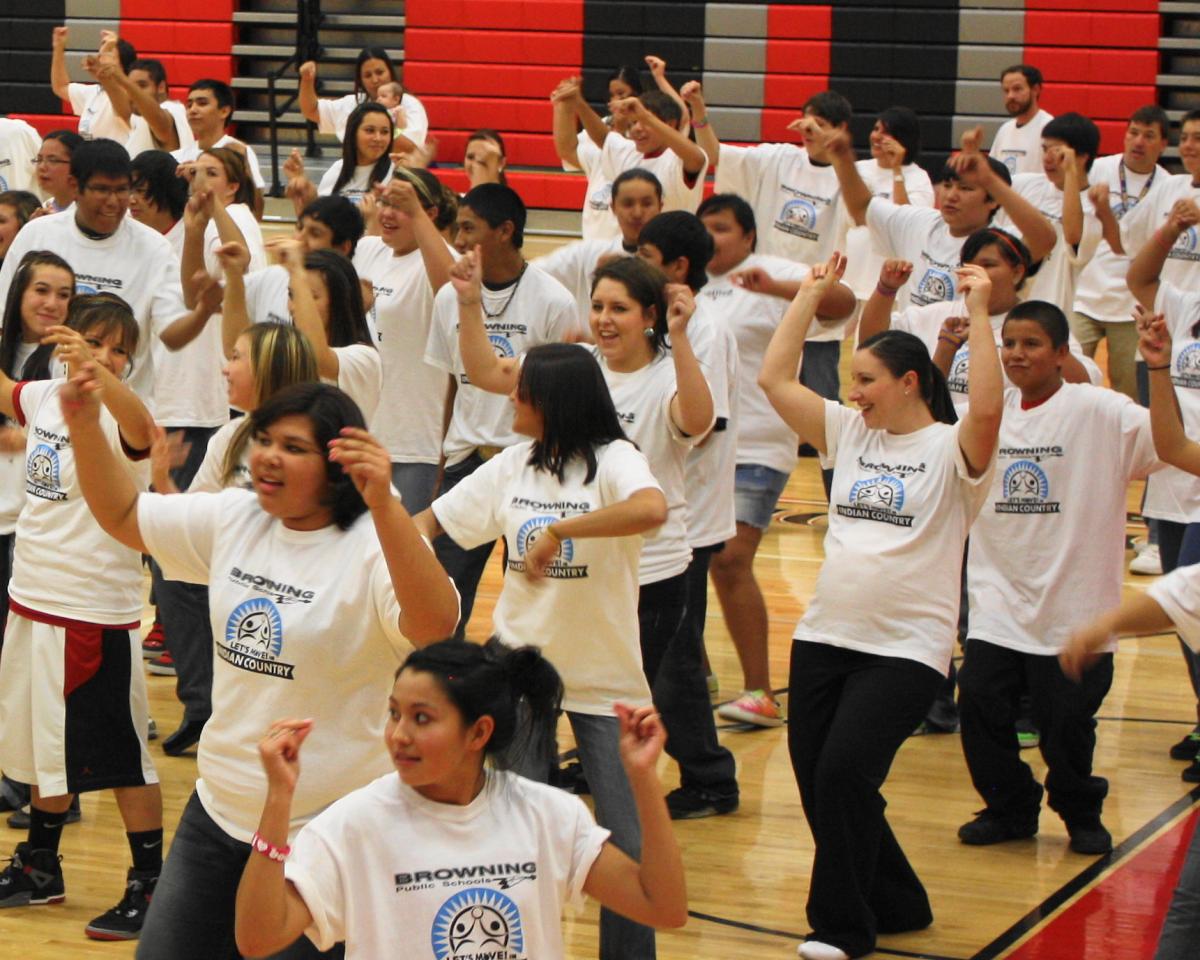 Browning High School Students and Staff dancing to Beyoncé's "Move Your Body." Photo Credit: Claire Worth
The Blackfeet Nation's Let's Move! in Indian Country event was a success because community members, nonprofit organizations and corporate partners came together to support and advance the work that Tribal leaders and community members are already doing to improve the health of American Indian children. Local sponsors of the event included Glacier Electric Cooperative, Southern Piegan Diabetes Program, Tribal Health, Johnson-O'Mally Association, Blackfeet Tribal Business Council and Benefis Health Care.