Catholic Charities in Chicago Embraces PALA
Among the employees of the Catholic Charities of the Archdiocese of Chicago, there was no lack of initiative in their collective decision to accept the Presidential Active Lifestyle Award (PALA) challenge. The community enthusiastically embraced the challenge, seeking to use it as a means to lead their larger community towards becoming more involved in the First Lady's Let's Move Faith & Communities initiative, and to promote healthier lifestyles.
As a first step, the organization formed a new Catholic Charities Wellness Committee to focus on promoting healthy living ideals among the staff. To achieve this goal, the committee decided to challenge employees to be physically active for 30 minutes per day, 5 days a week – for 6 weeks! Employees could report any variety of activity from swimming to walking to dancing or even yoga – they just had to do it every day in order to create new patterns of physical activity and to inspire new healthier lifestyle habits.
The challenge brought together 367 employees, many of whom joined in a headquarter-wide PALA achievement event kicked off by a short walk around the Catholic Charities' headquarters followed by healthy snacks and certificate presentation. Sparked by friendly competition between departments to take the most positive steps within the challenge, several staff members declared they had lost weight and were committed to a healthier lifestyle due to their PALA challenge experience. "I've lost 18 pounds so far and feel really healthy. I owe it to PALA and getting fit to celebrate," said one Catholic Charities staff member.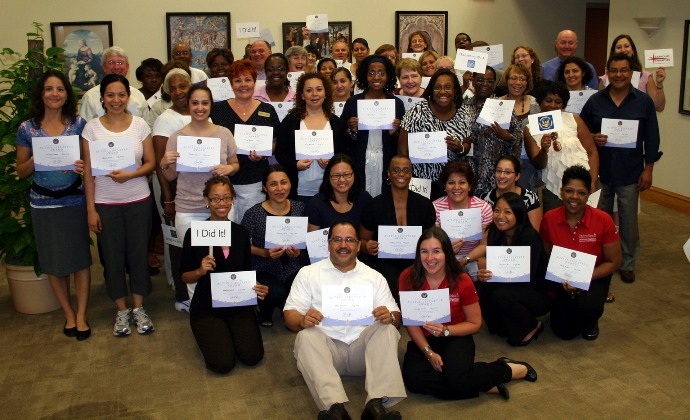 In addition to making a commitment to the Let's Move initiative, the PALA challenge allowed Catholic Charities to evaluate how they may lead others, beyond the staff, to include fitness and healthy lifestyle choices in their daily lives. Angel Gutierrez, Vice President of Community Development and Outreach Services for Catholic Charities and a Let's Move enthusiast, spoke to the staff at the kick-off event: "I'm proud to say that we are doing what we can do to bring health and wellness into our community service programs," said Gutierrez. "Our Summer Food Program has now incorporated physical activities into the schedule to get kids moving in addition to eating a healthy meal. Our Development department has organized Team Catholic Charities, bringing staff and friends of Catholic Charities together to run the Chicago Marathon. Our own agency Wellness committee is focused on bringing health and wellness ideals to all staff. Let's all continue to be healthy and active and pass along these ideals to our families, friends and our clients."