Soccer on the South Lawn with the U.S. Women's National Team
Watch First Lady Michelle Obama welcome the U.S. Women's National Soccer Team.
Members of the U.S. Women's National Soccer Team and First Lady Michelle Obama took to the South Lawn yesterday afternoon for a Let's Move! soccer clinic with young players from Soccer Sisters United in Philadelphia and Prince William Courage Soccer Club in Woodbridge, Virginia. Women's National Soccer Team players Nicole Barnhart, Rachel Buehler, Lori Lindsey, Alex Morgan, Kelley O'Hara and Becky Sauerbrunn taught the kids soccer skills while highlighting the importance of physical activity, which is what Let's Move! is all about.
The South Lawn clinic was based on the principles of the U.S. Soccer's curriculum. The curriculum is designed to improve development of players in the U.S., concentrating on creating more organized, age-appropriate training sessions, developing coaching practices and creating a fun environment. The players definitely all seemed to be having fun as they weaved in and out of cones, passed the ball back and forth and took some shots on goal.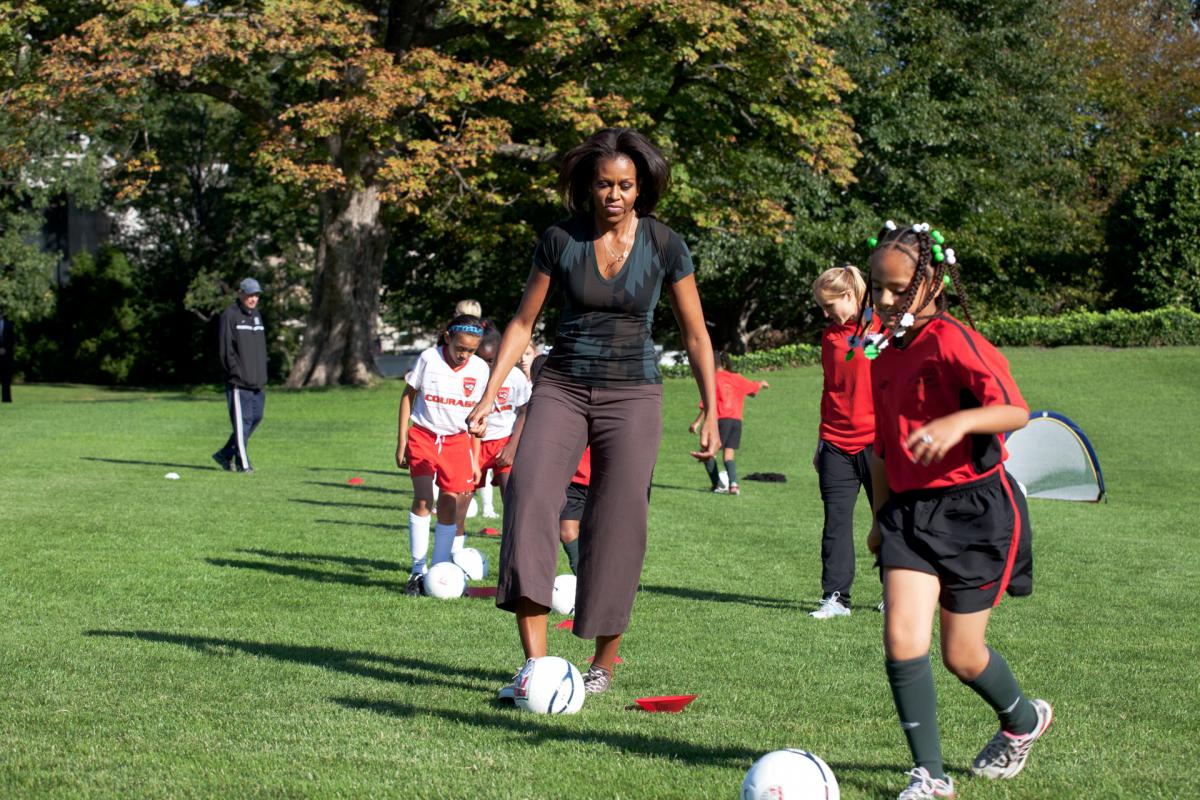 First Lady Michelle Obama and members of the U.S. Women's National Soccer Team host a Let's Move! clinic on the South Lawn of the White House to teach kids soccer skills and highlight the importance of physical activity. Youth from Soccer Sisters United in Philadelphia and Prince William Courage Soccer Club in Woodbridge, Va. Joined Mrs. Obama, Oct. 6, 2011. (Official White House Photo by Chuck Kennedy)
First Lady Michelle Obama watches children run drills as she and members of the U.S. Women's National Soccer Team host a Let's Move! clinic on the South Lawn of the White House to teach kids soccer skills and highlight the importance of physical activity. Youth from Soccer Sisters United in Philadelphia and Prince William Courage Soccer Club in Woodbridge, Va. joined Mrs. Obama, Oct. 6, 2011. (Official White House Photo by Chuck Kennedy)