Four Foot Chefs at the Governors Mansion
On October 3, Katie O'Malley, the First Lady of Maryland welcomed 20 chefs to the Governors Mansion in Annapolis. They ranged in age from 4 to 14 and were happy to take on the task of preparing Maryland grown produce into a special treat for the crowd who had gathered to celebrate ChopChop Maryland.
ChopChop is the brainchild of Sally Sampson, a nationally renowned chef who is devoting her talents to making it easy for families to prepare delicious foods at home. Her mission is to inspire children and adolescents with a love for culinary arts.
The effort is part of the national Let's Move Campaign to support healthy eating and physical exercise to help end the childhood obesity epidemic in one generation. Recognizing the powerful new tools available to families of this generation, the program is wedding the highly successful ChopChop magazine with a new outreach mechanism...the text message. Families can sign up to receive the recipe of the month and other healthy food tips by texting 'CHOPMD' to the short code 43186. Full instructions are on the website.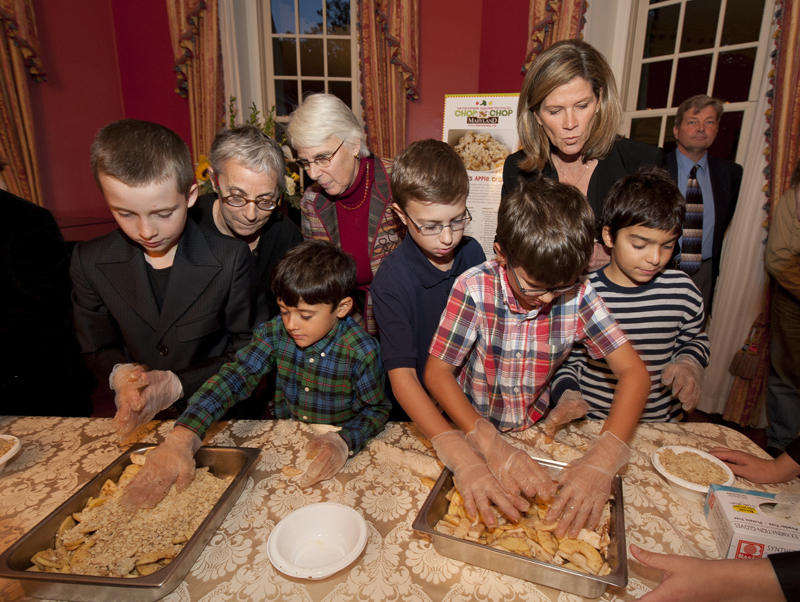 At the Governor's home, we got direct proof of how engaging the ChopChop recipes are. The children worked with "their adults" to spred Maryland apple slices (gorgeous red and yellow freshly picked ones) on the bottom of cake pans, add a generous portion of crisp makings on top and gently pat them into shape. I was "your adult" for a somewhat under four foot young man. Once he got each finger into a separate finger of his cooking gloves, he dug in with gusto and helped to rearrange the mixture just to his liking.
At the end of a meal together we all got to eat the crisp right out of the oven. We enjoyed the food and warm multi-generational camaraderie which is what Let's move is all about. Thanks to Sally Sampson for her creativity and to First Lady Katie O'Malley for her gracious hospitality.