Eating and Moving with Miner Elementary Students
My fellow President's Council on Fitness, Sports and Nutrition (PCFSN) members and I recently visited Miner Elementary School in Washington, D.C. led by Principal LaVonne Taliaferro-Bunch. The goal? To not only witness a model physical education (PE) program in action, but to experience it – in other words, walk the talk.
Since we are the President's Council, we knew we couldn't just sit there…that's not our style. So we got right in there with the students and listened closely as PE instructor, Mr. Duriel Cobb, guided us through the activities before turning up the music and pumping us up. It was a great feeling to play and have fun – like being a kid again. The students were encouraging us adults as we were breathing hard and sweating early on.
First, Mr. Cobb got all of our hearts pumping with "cone locomotion" – we skipped, jogged and walked together in a line around the perimeter of the gym – and that was just the warm-up! I had so much fun using a hula hoop as my steering wheel as we drove our "cars" in tandem around the gym. And boy, was my student driver FAST! We finished the class with "aerobic bowling" where, after knocking down pins, you chase down the bowling ball and run it back to your teammate. Who knew bowling could be such a fast-paced sport? The three girls on my team were such positive teammates. My aim was completely off and my team really didn't seem to care; they were more interested in having fun than winning which made it even more fun. They each added their own special twist and taught me new dance moves as we waited in line.
I was having so much fun that I forgot we were working out. I was so inspired by the students of all abilities and backgrounds being included in every activity and staying engaged. There were two boys with special needs who impressed us all by keeping up with their classmates throughout the class. Plus, they were all having a great time!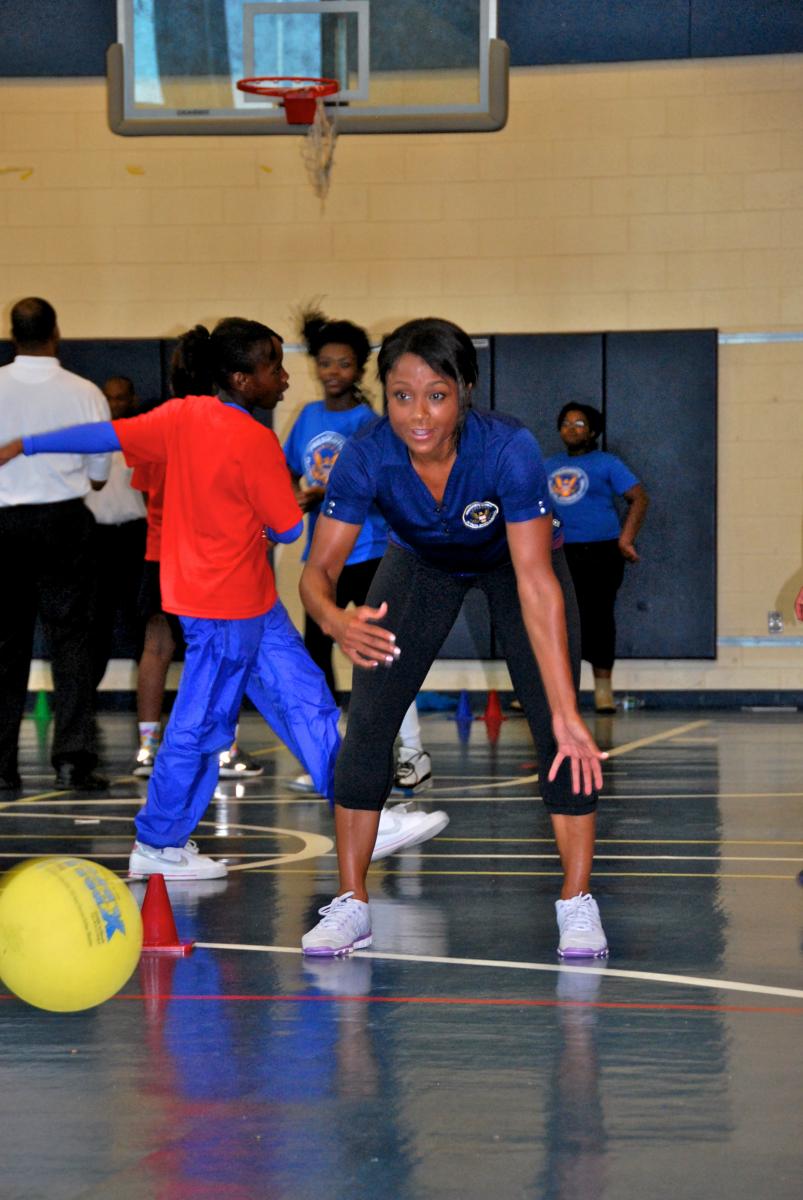 Council co-chair Dominique Dawes demonstrating her aerobic bowling skills.
After PE, we had a nutritious lunch of baked tilapia, whole grain rice pilaf, salad and cantaloupe, and the students shared stories about what they've learned about food from tending to the school's garden. I have never seen kids so excited about eating all their fruits and vegetables.
Since the beginning of the school year, these students have planted many different fruits and vegetables including green peppers and cherry tomatoes, which I was lucky enough to try fresh from the vine! Community gardening, whether at a school or in a neighborhood park, is a great way to educate kids and families about the health benefits of fresh foods and make them accessible to all.
The PE program and garden at Miner Elementary are great examples of how to incorporate physical activity and good nutrition in your school and help the First Lady's Let's Move! campaign end the childhood obesity epidemic within a generation.
If you are a teacher looking for a great way to help your students get healthy, enroll them in PALA+, the next phase of the Presidential Active Lifestyle Award which includes activity AND nutrition! To earn a PALA+ the physical activity requirements remain the same – 60 minutes a day for kids, 30 minutes a day for adults five days a week for six weeks – and you'll add one healthy eating goal each week building upon those goals over the six-week period. To see the healthy eating goal you can choose from or to sign up for PALA+ today, visit www.presidentchallenge.org.