Healthy School Meals Fuel S.W.A.G. and Success
Ed. Note: Cross-posted from the USDA blog.
In August I went back to school with students in Albany and Newton, Ga., to see how healthy school meals help students get their "S.W.A.G. on" and prepare for success.
In Albany, 400 Sherwood Acres Elementary Magnet School students celebrated school breakfast, many wearing S.W.A.G. t-shirts, which stands for "Students with Academic Greatness!"
Vanessa Hayes, Dougherty County Schools Director of Child Nutrition Services, explained, "We understand that good nutrition is the fuel for the educational vehicle."
School and community leaders, along with school nutrition partners were there to help students understand that eating breakfast is a big deal. I was glad to see such strong community support.
It was evident to me that Dougherty County School System (DCSS) is committed to school nutrition. DCSS participates in both the First Lady's Let's Move! initiative and the Chefs Move to Schools program.
I shared with the school how the USDA has worked aggressively to implement historic reforms to the school nutrition environment through the Healthy, Hunger-Free Kids Act of 2010. This is a big win for our nations' kids. I also invited DCSS to take the Healthier US School Challenge, and to go for the gold!
At Baker County K-12 School in Newton, I joined Principal Torrance Choates, new Child Nutrition Director Ricky Watzlowick and students for lunch and classroom discussions on winning the future.
President Obama said in his State of the Union address that "…if we want to win the future…then we also have to win the race to educate our kids." That means making sure all kids are fueled by the healthiest, most nutritious food we can provide.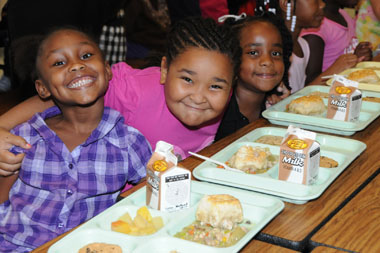 Trained chefs in school kitchens make a difference when they find creative ways to work healthy food into tasty meals that children actually enjoy. Baker County students and teachers told me how much better their school meals have become because of changes Watzlowick, who is also a trained chef, is making. I was amazed to hear a fifth grader say her favorite foods are now carrots, broccoli and squash!
I also visited with her classmates, who "Dress for Success" once a week to prepare for professional careers of their choice, and explained that healthy habits are just as important; they can last a lifetime and are an investment in their future. By offering healthy school meals, we give students their best chance to make that future bright!