New Haven Schools Grow Healthy Kids with Access to Salad Bars and School Gardens
On September 27, 2011, New Haven Public Schools and Whole Foods Markets will host a Celebration of Salad Bars to highlight New Haven's leadership and commitment to healthier school meals. With the goal of increasing students' consumption of dark green and yellow-orange vegetables, New Haven Public Schools is celebrating the start of the new school year with salad bars in 43 of its 47 schools. Almost all of New Haven's 20,000 students will have access to a salad bar every day. New Haven Public Schools received their first two salad bars from Let's Move Salad Bars to Schools, a comprehensive grassroots public health effort to mobilize and engage stakeholders at the local, state, and national level to support salad bars in schools,last fall and the success was immediate.
Chef Tim Cipriano, Executive Director of Food Services at New Haven Public Schools, has been focused on making sure that almost all of his schools had salad bars to start this school year. "Our students love being able to make their own salad, to choose what they take to eat. They feel empowered; it's all about 'they choose,'" said Chef Tim."Every student goes to the salad bar, they scarf down the raw broccoli, cauliflower, and black bean salad."
Because his goal is to increase student's vegetable consumption, New Haven's salad bars just contain fresh vegetables; baskets of fresh fruits are also available every day. This year, Chef Tim plans to rotate in a new dark green or yellow-orange vegetable or legume into the salad bars every day to add excitement and expose his students to a wider variety of vegetables.
One of the reasons Chef Tim is so focused on vegetables is because more than 25% of his students are food insecure and more than 75% are eligible for free and reduced price school meals. "My students are not getting a lot of vegetables at home, so it's even more important that I make sure they try new vegetables at school and have the opportunity to learn to like a wide variety. That's where the new salad bars will make such a big difference," said Chef Tim. He also notes that the students who pilot tested the first five salad bars last school year had more positive attitudes about the cafeteria. "The salad bars helped change their overall behavior," said Chef Tim.
According to Chef Tim, his focus on increasing dark green and yellow-orange vegetable consumption carries over into other food programs in New Haven. In the school gardens, students engage with growing these vegetables and then cook them with chefs from the Chefs Move to Schools program. This school year, six chefs will work with students to develop recipes for composed salads without mayonnaise or pasta that can be introduced in the schools' salad bars. Additionally, to increase participation in the Summer Food Program, Chef Tim introduced a Healthy Food Truck to deliver meals to 1,000 students in underserved city neighborhoods this past summer. Always wanting to innovate, Chef Tim plans to incorporate salad bars into the Healthy Food Truck next summer.
Last February, Congresswoman Rosa DeLauro, Janey Thornton from the U.S. Department of Agriculture (USDA), New England Patriot football player Ron Brace, and Karen Murphy from Nature Seal joined Chef Tim at one of New Haven's schools. They saw first-hand how salad bars are an effective strategy for implementing USDA's new proposed school meals regulations that call for doubling the amount of fruits and vegetables served at school lunch. New Haven School District's salad bars were donated by Whole Foods Market, United Fresh Produce Association Foundation, and Nature Seal.
Congratulations to Chef Tim and New Haven Public Schools for leading the way to improve the healthfulness of school meals and improve students' eating habits. Chef Tim has a salad recipe manual called Flavors of the Farm Salad Bar Service Manual that is available free to schools nationwide and can be downloaded at www.nhps.net/NHSchoolFood.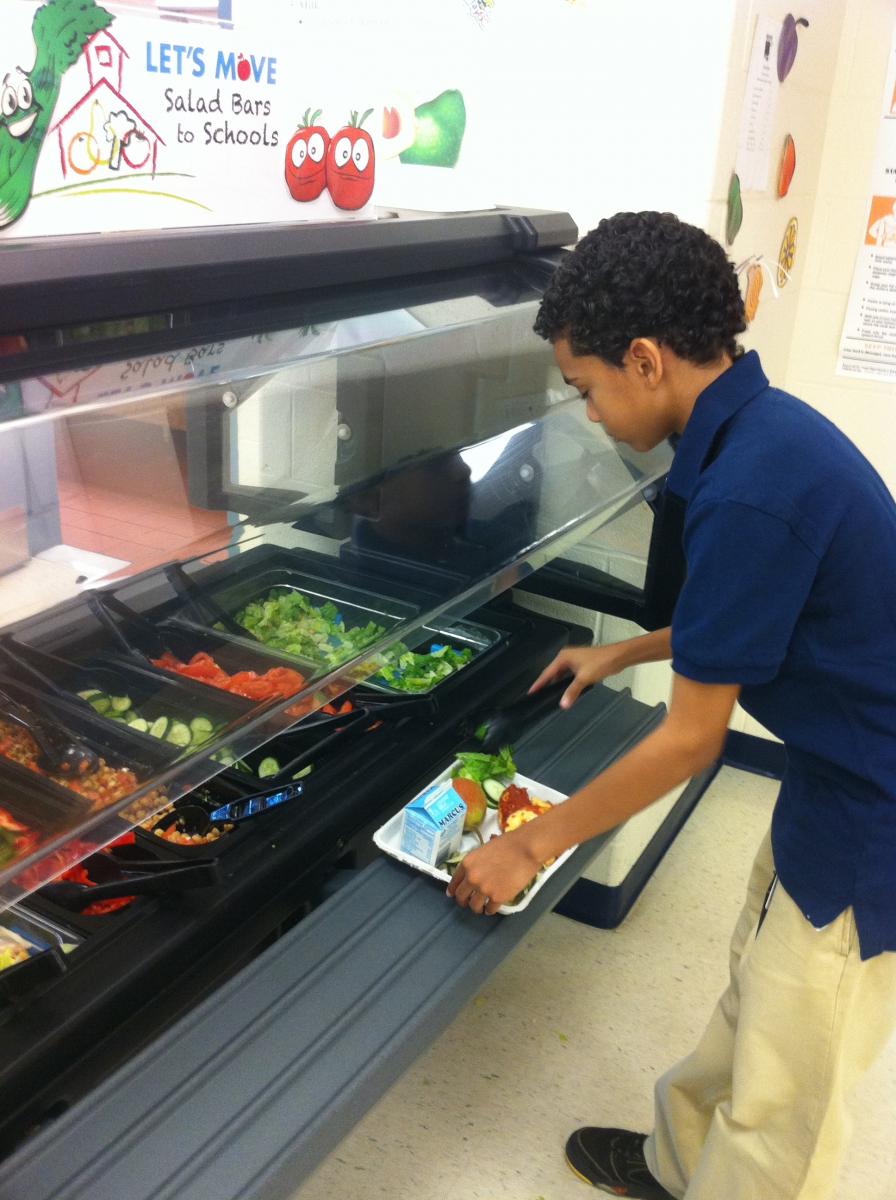 Rance Smith, 7th grade at Mauro-Sheridan Science, Technology & Communications Magnet School
The goal of Let's Move Salad Bars to Schools is to increase the number of salad bars in schools across the country until every child has the choice of healthy fruits and vegetables every day at school. Let's Move Salad Bars to Schools is an initiative of the Food Family Farming Foundation, National Fruit and Vegetable Alliance, United Fresh Produce Association Foundation, and Whole Foods Market. This initiative is working to place 6,000 salad bars in schools nationwide over the next three years, either through donations or by helping individual schools with fundraising.
Currently more than 800 schools nationwide have received salad bars from Let's Move Salad Bars to Schools. If your school would like a salad bar you can apply at www.saladbars2schools.org.