Thanking America's Coaches
Athletics provide many opportunities for youth across the country, like the chance to be physically active, as well as a group of friends with a common interest, but it is coaches who decide what type of athlete these kids will be. I do not mean whether they will be All-Americans or bench players. Rather, will they understand the values of a strong work ethic, good sportsmanship, or the power of teamwork?
I have been blessed to have had some phenomenal coaches, who have helped to define the man I am today. Coach Wilen, who persuaded a little 7th grader to try for the football team, gave me the confidence in knowing someone believed in me. My high school wrestling coach, Gregg Muscarella, taught me the importance of the attention to detail and the value of commitment. Peter Magnuson, my high school lacrosse coach, taught me how to build on my strengths and encouraged me to pursue a spot on the varsity lacrosse team at a Division 1 University.
I've always considered my teammates like family and they are some of my closest friends in my life. When I stepped on campus as a young freshman it was obvious who would be the parental figure in my collegiate lacrosse family. Over my four years, Coach Shay pushed me to be my best, and I strived to never disappoint him. We had our ups and our downs, but he never let my passion for lacrosse dwindle. He led my transformation from a somewhat slow freshman to one of the best face-off men in the country by my senior year. As my high school coaches prepared and guided me to be a NCAA athlete, Coach Shay prepared me for the rest of life.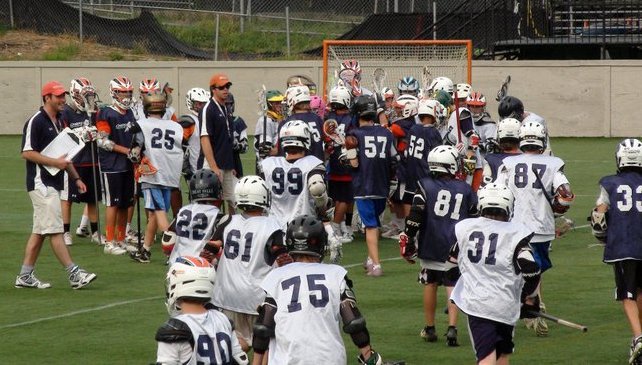 Now I have the privilege to step into the coaching shoes as a youth lacrosse coach. I comprehend the effect my words and actions will have on my players since I had some outstanding mentors in my athletic career. I can only hope I will be half the coach they were, but know I was well trained.
I recently learned about a Coach of the Year Award offered through Up2US, a non-profit organization that focuses on the advancement of sports as a solution for the critical challenges facing the today's youth. The contest seeks to recognize coaches who have inspired kids both on and off the field, and I couldn't help but reflect on the importance of the coaches in my life. Do you have an excellent coach in your life? I encourage you to submit them for the 2011 Coach of the Year Award. Up2Us is accepting nominations through the end of the day today, September 15.