Tackling Childhood Obesity with Fuel Up to Play 60
Ed. Note: Cross-posted from the USDA blog.
As students across the country get back in school and we gear up for Monday Night Football, the Fuel Up to Play 60 program is ready for another action-packed year of nutrition and fitness events. An initiative that encourages kids of all ages to be healthy and active, the overall goal of the program is to tackle childhood obesity.
Students can get involved with Fuel Up to Play 60 on the program website, where they can pledge to make healthy eating choices and do at least 60 minutes of physical exercise a day. An online dashboard allows students to track their progress and rewards them for meeting personal goals.
They can also work with peers to complete challenges. The website also brings students the latest news, tips and challenges, as well as videos from their favorite National Football League (NFL) stars. They can even view and upload videos from school physical challenges.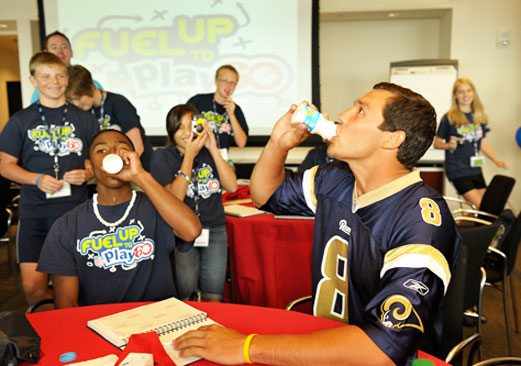 St. Louis Rams quarterback Sam Bradford challenges Fuel Up to Play 60 participants to a milk drinking competition during the Student Ambassador Summit in Washington, D.C. (Photo Courtesy of fueluptoplay60.com)
While getting students active and in the game is the primary goal, Fuel Up to Play 60 encourages others to get involved. The Fuel Up to Play 60 partnership represents an unprecedented pledge to our kids to help get them moving toward physical fitness and health, a key element of First Lady Michelle Obama's Let's Move! initiative. Parents and family can set a good example and make healthy food choices available at home. Businesses can support and promote the program. Health professionals can help evaluate their local school's nutrition and physical activity environment or volunteer at local health fairs.
Fuel Up to Play 60 is a team effort. The National Dairy Council® and the NFL founded the program and provide the majority of its funding. However, the program benefits from partnerships with government agencies, health care professionals, private businesses, educators, and communities across the country.
Featuring school nutrition programs such as the Healthier US Schools Challenge, the USDA is also a leading partner of the Fuel Up to Play 60 program. The National Dairy Council is the nutrition marketing arm of the dairy research and promotion program, one of several programs that the Agricultural Marketing Service (AMS) oversees to support domestic agriculture industries. A pioneer in child nutrition research, the National Dairy Council offers resources like the Snackulator, a tool that provides recipes and nutrition facts. Nutrition is a priority within the USDA and it encourages students and schools alike to find fun, innovative ways to raise awareness about the importance of eating healthy foods and getting regular exercise.
True progress can only be made if many players are involved, so the USDA and the rest of the Fuel Up to Play 60 team encourage everyone to join the movement. Together, we can defeat childhood obesity.