Native American Youth Get Active at the Minnesota Swarm's Lacrosse Camp
Building off of the commitments made at the July White House South Lawn Series lacrosse event, I was excited to hear about the success of the Minnesota Swarm's 2ndannual Lax-4-Life camp. The National Lacrosse League's team from the Land of 10,000 Lakes saw their enrollment double for this year's camp, with nearly fifty 13-15 year old Native America youth attending. Seven different Tribal communities were present, including: Fond du Lac, Prairie Island, Oneida Nation, Little Earth, Lac Courte Orelles, Grand Portage, and Mille Lacs.
The five-day overnight camp was presented by the U.S. Marshals Service, the Fond du Lac Band of Lake Superior Chippewa, Lax-4-Life co-founder Clint Letch and the Minnesota Swarm. In addition to lacrosse training and instruction, the camp also provided educational sessions on drug, alcohol, violence, and gang prevention, as well as diabetes and obesity awareness.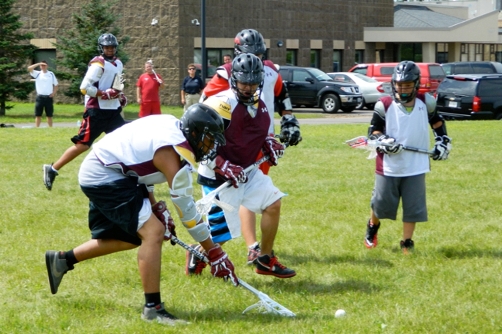 Photo Credit: Alec Schimke, MN Swarm
"With the curriculum this year, we tried to teach these kids the value of lacrosse as well as the heritage of the sport and what it means to them," Swarm Director of Lacrosse Operations Kevin Dunnigan said. "But we also wanted to work on different community aspects such as nutrition and fitness. We hope these are skills they can take forward in their lifestyle."
Minnesota Swarm co-owner Andy Arlotta and Clint Letch started the camp last year with the goal of providing Native American youth with a healthy lifestyle choice that they could take pride in.
"In the last two years, the program has grown," Letch said. "This year we brought girls into the program, which I think is a huge asset to have as more and more women are being called on to leadership positions throughout reservations."
"When we arrived in Minnesota a few years ago, we were surprised that lacrosse was not being played in the Native American communities," Arlotta said. "It has been our goal to help return lacrosse to this community where it all started, and it's exciting and rewarding to see how fast it is growing through programs like Lax-4-Life."
Brookston Community Center Manager Bryan Bosto who hosted the camp, echoed Arlotta's observations of the sports growth, "Two years ago there was no discussion of lacrosse in this community. To see the kids carrying around their sticks in December...practicing with themselves by throwing the ball against the wall…to me that's the biggest impact I've seen in any sport. The general consensus used to be that lacrosse is an East Coast game, but it's not. It's a traditional Native American sport."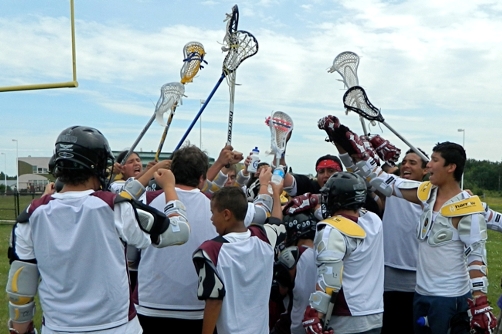 Photo Credit: Alec Schimke, MN Swarm
Commissioner George Daniel of the National Lacrosse League congratulated the Swarm, "We are extremely proud of the hard work and dedication from the Minnesota Swarm. It is encouraging to see such an amazing alliance with community members to ensure the health and well-being of Native American youth. The Swarm has set the model as we look to do similar outreach in Native American communities with our other teams."