Let's Move Outside! Family Fitness Day
Under sunny skies, nearly 400 youth and their parents gathered for the first Spectacle Island 5K Race and Kids Fun Run, as a part of Boston Harbor Islands national park area's Let's Move! Outside Junior Ranger Program. Each turn of the course offered views of surrounding islands, harbor coastline, with the city skyline in the distance. The winner finished the race in just over 17 minutes running "barefoot," while others walked the race in just under an hour.
As publicity efforts targeted youth and families, many entrants were families running together in their first-ever race. One family had three generations coming together to run side-by-side as part of their Father's Day weekend celebration. Other runners included a local middle school's cross-country team, and members of local community centers. The oldest runner was 75, while the youngest was 7 years old. A crowd favorite was a mother who raced carrying her son on her shoulders. Outreach to the neighborhoods closest to the islands paid off with many local youth running in the Kids Fun Run.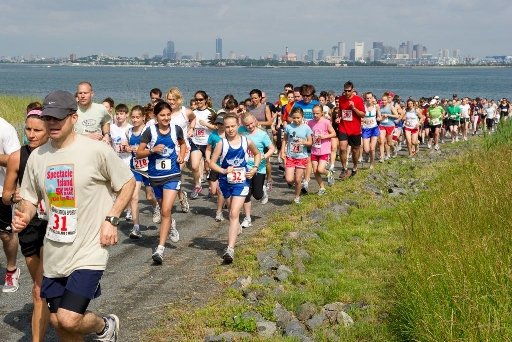 Under sunny skies and cool ocean breezes, over 300 runners completed the first annual Spectacle Island 5K, Kids Fun Run and Family Fitness Day on Saturday, at the Boston Harbor Islands National Park Area.
The half-mile Kids Fun Run was led by soccer Olympian Jeff Durant, as part of the Olympic Day program. Durant ran ahead of the pack until passed by several sprinting 12-year-olds. All finishers received a ribbon and a copy of Chop Chop Magazine, inspiring kids to eat and cook food that is both healthy and local. The youngest "runner" was 16 months old.
Following the race the runners celebrated with a healthy lunch served by local restaurant and island concessionaire, Jasper White's Summer Shack. The Let's Move! Outside Family Fitness Day continued into the afternoon offering families workshops such as yoga on the pier, hula hoop spinning and presentation, boot-camp fitness circuit, hikes with rangers, and finally Zumba. These programs—and more—will be offered at different times throughout the summer at Boston Harbor Islands as part of the park's Let's Move! Outside Junior Ranger activities.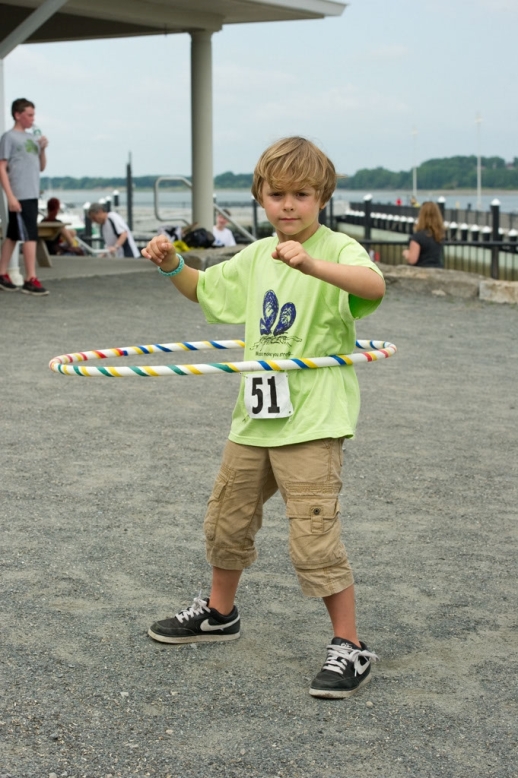 After race activities included a hula hooping workshop lead by the Boston Hoop Troop where "kids" of all ages learned the basics of hula hooping. Other family fitness activities included hiking, yoga, a boot camp, and a Zumba! workshop.